Why This New Concealer Is My New Favorite Winter Product
Fenty Beauty By Rihanna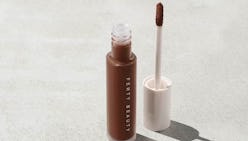 Let me start this off by admitting my bias: I love anything that Rihanna puts out. Music? Waiting on the album with bated breath. Fashion? No one does Marie Antoinette-inspired athleisure better. I even found myself rewinding her scenes in Bring It On: All or Nothing, which was definitely one of the movie's better moments. Needless to say, I loved Fenty Beauty before I even got my hands on the Pro Filt'r Soft Matte Longwear Foundation, and try every product that the brand releases. So I already knew that the Pro Filt'r Instant Retouch Concealer would be good stuff.
Aside from brow and lash products — fingers crossed for those this year — it was the only thing that this perfect, perfect brand was missing. I don't wear foundation every day, so sometimes, I'd take my foundation (I wear shade 470 in the winter) and dab it on my problem areas, like dark spots and acne scars. And when I needed coverage, I'd always take a bit of 460 and apply it just as I would with regular concealer. But the point of differentiation between foundation and concealer, of course, is the consistency. Fenty Beauty's foundation, in particular, is known for having great coverage — it's just a bit thick. And it would often take a few minutes for me to properly blend it out so that it'd look dewy and not cakey.
Pro FIlt'r Instant Retouch Concealer in shades 460, 470, and 480
Now, keep in mind that I consider myself somewhat of an expert when it comes to concealer, mostly because it's one of the only products that I'll put on, aside from my Glossier Boy Brow. I've tried light, medium, and full-coverage. I've tried liquids and potted ones. If anything, the one that I turn to the most is probably the NARS Radiant Creamy Concealer because it goes on really smooth and dewy. (I like to set mine so it doesn't crease.) So ultimately, what I look for in a formula is one that blends with my fingertips, one that's available in a multitude of shades (I like to contour with darker and lighter tones), and one that lasts all day long without me having to set it.
The Instant Retouch Concealer checks all of those boxes. First and foremost, it's way, way lighter than the base product, which is to be expected — and super duper creamy. I've tried products that almost feel like paint, and dry down just like it, too. The brand said that a little bit goes a very long way, and it's true. I like applying my concealer in upside-down triangles underneath my eyes, since that creates the illusion of light. But in a recent tutorial, I noticed that Rihanna did half-triangles rather than full ones... so naturally, I did half-triangles, too.
Using the Precision Concealer Brush 180, I blended my concealer towards the perimeter of my face and marveled at how easily it melted into my skin. I usually use a damp makeup sponge to pat the product into my skin, since brushes don't always blend easily. That was no problem with this new tool. I still did use a blender, though — the Lil Precision Makeup Sponge Duo 105, which are itty bitty sponges that really help with getting into the smaller corners that you might miss with a larger one. I found myself using the angled end of the sponge for my nose contour more than the brush.
Oh, and speaking of contouring — I have plenty of options to do so with, since these concealers come in one of the widest ranges on the market: 50 shades, from 100 to 498. I alternated between 470 and 480 for dimension, but feel comfort at the fact that I have plenty of others to choose from should I need to.
For the sake of curiosity, I tried this concealer two days in a row... once without setting, and once in tandem with the Pro Filt'r Instant Retouch Setting Powder in Coffee to lock my concealer in. My face was crease-free both days, but the powder comes in handy if you tend to get oily on your T-zone like I do.
We're only 11 days into 2019, but I think that I've found the products that I'll undoubtedly be using all year long. The new launches drop today... so shop them below, and allow yourself to be convinced as well.