I Finally Found A Lightweight Foundation That Doesn't Melt In The Heat
Jessica Fields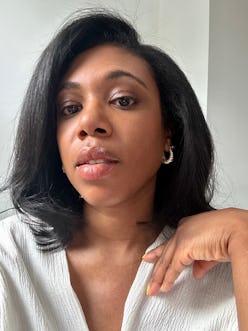 We may receive a portion of sales if you purchase a product through a link in this article.
In our series Trial Run, TZR editors and writers put the buzziest new beauty products to the test and share their honest reviews. This week, beauty writer Jessica Fields is testing Hourglass Cosmetics' Veil Hydrating Skin Tint.
Ever since I was a child, I've loathed the heat. Blame it on being a fall baby, but when mid-summer rolls around and the temperatures climb, I want my makeup routine to be minimal. No layers, no building, and no products that melt or leave me looking slimy. Over the years, this has led to me completely ditching my go-to creamy base makeup items, like foundation, bronzers, and blushes, in order to avoid looking like a sweaty mess by noon. But there are days during the summer when I need (or even desire) a bit of coverage. So when I heard that Hourglass Cosmetics was set to launch their Veil Hydrating Skin Tint, a weightless complexion product that hydrates the skin, I knew I needed to give it a try.
As part of the brand's cult-favorite Veil collection, this new lightweight base product aims to provide enough coverage to diffuse imperfections and even skin tone. But what's most intriguing about this formula is its claim to instantly boost skin hydration. "The goal was to create a versatile product with skin care benefits and high-performance wear. So this tint is packed with 94% naturally-derived ingredients and key elements that provide ultra-hydration to deliver sheer, lasting glow," says Vanessa Eckels, a member of Hourglass' Global Artistry Team.
As a longtime fan of the Vanish concealer and the Veil prime and setting products, I had high expectations for this skin tint and was eager to see how it would wear during the dog days of an NYC summer. Keep reading for my experience and honest thoughts on the brand's latest launch.
Fast Facts
Price: $49
Size: 1.1 oz
Clean/Cruelty-Free? Yes
Best for: All skin types, including balanced, dry, combination, and oily
Ingredient Highlights: Meadowfoam seed oil, plant-derived squalane, hyaluronic acid, and rambutan
What we like: Comfortable; buildable coverage; naturally-derived ingredients
What we don't like: Good wear time but doesn't completely erase texture
Your rating: 4/5
How TZR Keeps Score: 1/5: Making a return; 2/5: Keeping as a backup; 3/5: Finishing to the last drop; 4/5: Recommending to my group texts; 5/5: Already on auto-replenish
The Formula
Like all of Hourglass' products, this skin tint's formula is vegan, so the list of natural ingredients comes as no surprise. That said, I was intrigued to see natural skin-loving components like meadowfoam seed oil — a rich emollient with deep moisturizing benefits for barrier protection — and rambutan, which strengthens and locks in moisture, included in the lineup. The formula also includes plumping ingredients, such as hyaluronic acid and squalane. Together, they result in a product that effortlessly melts into the skin in order to boost radiance and hydration.
The Veil Hydrating Skin Tint comes in 18 shades that are based on warm and neutral undertones. This makes finding an exact match easy. However, if you do need to mix two shades, the formula is smooth enough to blend them together in order to perfectly complement your complexion.
My Current Summer Makeup Routine
During the peak of summer, my go-to makeup routine becomes extremely pared down in order to keep my skin from looking and feeling like an oil slick. Instead of piling complexion products on top of each other, I turn to products that work well on their own and opt to apply them only to specific parts of my face. This helps me to create a look that's not too heavy.
I start by creating a radiant base, which I usually obtain by using a glow lotion or luminizing SPF primer all over my face, a few dabs of a full-coverage concealer under my eyes, and a light touch of powder bronzer around my forehead, and under my cheekbones for warmth. For days spent at the park, beach, or casually strolling the city, I've adopted this regimen because it gives my skin a natural golden glow and, most importantly, allows it to breathe.
As for the rest of my look, I skip eyeshadow, applying bronzer to my lids instead and opt for either a balmy lipstick or tinted gloss on my lips.
Of course, there are occasions that call for a full face of dewy makeup, but when the season is at its hottest, I keep my complexion products lightweight and minimal. Not only does this keep my skin from feeling greasy, but it also means touchups throughout the day are limited if needed at all.
My Experience & Results
As the kid sister to foundation, some skin tints can be a little too runny, but Hourglass' formula is just the opposite. Instead of watery and thin, the creamy tint has a texture that lies somewhere between a liquid and a balm.
After squeezing two dots of shade 14 onto each side of my face, I began blending it out with a brush and was instantly impressed with how much coverage I was seeing. With just a few quick buffs, the dark spots on my chin were nearly invisible, and my skin looked as smooth as it does when I apply my go-to lightweight foundation. Once the product was evenly dispersed, I stepped back to asses the final look. Glassy and not greasy? Check. Subtle golden glow? Check.
The creamy formula.Courtesy of Jessica Fields
After a full eight hours of wear time.Courtesy of Jessica Fields
While I loved the initial results, I was anxious to see how well the balmy formula would hold up throughout the day. Though I generally set my makeup with powder, I didn't want the glass-like finish to disappear, so I opted to only apply it to my T-Zone, where I tend to get the most oily. Almost six hours in, and the tint was still intact despite traveling through humid subway stations and city blocks. It didn't slide off or move, and instead, gave my skin a healthy glow that increased throughout the day.
However, I did begin to notice some texture peaking through as the day went on. As someone who's prone to oily breakdowns as products oxidize, I do wish the smooth finish this tint initially delivers lasted a bit longer. But applying a little primer beforehand could fix that.
Is Hourglass' Skin Tint Worth It?
If you're looking for a lightweight formula, buildable coverage, and a dewy finish that lasts throughout the day, you'll love this skin tint. It blends into the skin like a dream and delivers the glass-like radiance of an Instagram filter. The hydration boost it delivers is also very real, and though you can feel the product on your skin after several hours of wear, it's not uncomfortable. But most importantly, it doesn't result in an oily mess.
The bottom line: This tint works with your skin to create a natural, glowy — a look on everyone's makeup bucket list, especially during the sweltering summer season.