These 10 Makeup Products Always Give Me A Golden Hour Glow
Courtesy of Jessica Fields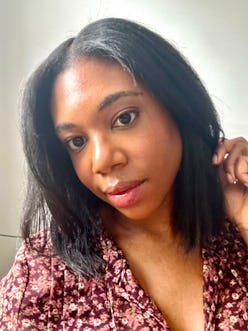 We may receive a portion of sales if you purchase a product through a link in this article.
Dewy, glowy, and glazed are all words commonly associated with today's popular makeup looks. But for someone like me whose skin type teeters between combination and oily, mastering a luminous finish that isn't greasy can be difficult. For years, I relied heavily on matte primers, powders, and oil-absorbing sheets to keep my makeup from getting too slick. Don't get me wrong, I'm still fond of a shine-free finish every now and then. However, more often than not, I lean towards a natural look. Over the years, developing the perfect glowy makeup routine that stays put has been a learning curve. But after extensive trial and error, I've discovered several hero products that never let me down.
I've also learned that creating a fresh golden look doesn't necessarily mean I have to change how I apply my makeup. I still utilize primers, powders, and most importantly, setting sprays to minimize excess oil while simultaneously delivering a halo-like glow. The key is using products built with glow-boosting ingredients, like Saie's Glowy Super Gel with rosehip oil, that can also double as a highlighter. Right now, I'm also loving the monochromatic makeup trend and have found that multitasking formulas like lip and cheek stains lend themselves well to my luminous routine.
Below, I've gathered my go-to makeup products for creating a full-face glow that rivals golden-hour.