'Tis The Season For Vampy Lips — Here's How To Find Your Perfect Shade
@narsissist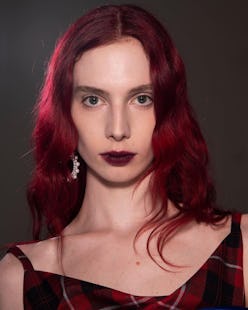 We may receive a portion of sales if you purchase a product through a link in this article.
Each season brings its own set of covetable beauty moments. Yet none of them hold a candle to fall's dark makeup looks. The arrival of cooler temperatures and shorter days also brings the desire to dabble in moody color palettes, soft matte finishes, and alluring deep lipsticks. Unlike the barely there glosses or sheer washes of summer, these lip colors are all about making a statement. From intensely bold hues to super opaque textures that can easily smudge, they can be notoriously hard to wear. But choosing the best vampy lipstick shade for your skin tone won't feel like a chore if you know how to shop for one.
"There's a general misconception that these shades are difficult to pull off because of the stark contrast they create," says Uzo, celebrity makeup artist and NARS global artistry director. However, the juxtaposition of the lipstick to your complexion is exactly what makes the look so striking. According to Uzo, the key is selecting a shade that best complements your skin's undertones. As she explains, this will be the easiest way to determine how dark you should actually go. "Most cosmetic brands have a good range of vampy lip shades to choose from, but the general rule of thumb is that the deeper the skin tone, the deeper and vampier the lip shade you can wear without the risk of looking [too] goth or '90s rock-grunge," she notes.
Without expert guidance, tip-toeing into deeper hues can feel complex. So, TZR spoke with two celebrity makeup artists for their tips on finding and wearing the best dark lipstick shades for your skin tone.
What To Consider When Shopping For Vampy Lipsticks
Vampy colors range in depth from vivid berry shades to burgundy, maroon, and rich plums that feature black and purple tones. "When worn right, especially at this time of the year, they have the ability to elevate your overall beauty look," says Uzo. That said, the makeup artist notes that formulation should be a strong consideration along with the color when shopping for a new bullet. "Overly matte lipsticks can amplify the look of dry, chapped lips whereas shades that are too dark can make your lips appear smaller and thinner." Instead, she recommends selecting a formula that is primed for long wear and includes ingredients that will hydrate and nourish your lips.
The Best Vampy Lipstick Shades For Fair Skin Tones
Deep Berry
According to Sarah Tanno, global artistry director at Haus Labs, fairer complexions with both cool and warm undertones work best with cool-toned lipsticks. These include hues that have blue bases and deep berry shades for an intense color payoff. A good way to approach darker lipstick is to stick to colors that are rich and vibrant. This, as Tanno explains, will make the color pop against the skin instead of washing it out.
Mauve Browns
Vampy shades for fair skin don't always have to be berry-toned or extra dark. "Plum and brown lip colors can also deliver that same level of moodiness without creating the stark contrast," says Uzo. In that vein, she suggests looking for lipsticks with mauve and rose undertones that will flatter fair complexions and still give the intended deepened effect.
The Best Vampy Lipstick Shades For Medium Skin Tones
Brick Red
According to Uzo, medium and tanned skin tones can wear almost any deep lip color, but a rich red with earthy undertones is a good place to start. "These shades brighten the skin and help to balance out green or olive." Brick is a great option as it has a range of tawny hues that add warmth and keep the final look bold.
Oxblood
Oxblood and burgundy were some of the top lipstick colors seen during fashion month in September. "These shades are great options for medium and olive skin tones because they provide just the right amount of depth without being too bright," says Uzo. Essentially you want the hue to have a hint of cool to neutral tones that will complement yellow undertones and medium complexions.
The Best Vampy Lipstick Shades For Deep Skin Tones
Rich Blackberry
Deeper skin tones can wear the darkest lipstick shades with ease. "Think purple or even black-based shades," says Tanno. The key here is to choose a color that's rich and intensely pigmented. Remember, this isn't about being subtle, so your lip color should be bold and quite opaque, she adds. In a similar sentiment, Uzo notes that if you are leaning toward a matte finish, you need to prioritize a nourishing formula that will leave your lips feeling smooth and supple.
Earthy Brown
The deepest of skin tones can wear some of the most saturated hues in matte or high-shine finishes. Saturated shades like burgundy or browns in clay and earth tones are also beautiful alternatives but have a different effect because their intensity is close to or matches the natural depth of this skin tone.