Yes, Double Cleansing Is Really Worth The Extra Skin Care Step
Dermatologists explain why.
@alexandranataf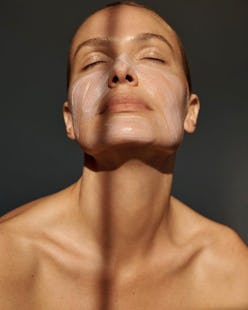 We may receive a portion of sales if you purchase a product through a link in this article.
Cleansing is arguably the most important step in your skin care routine. In the morning, washing your face rids rids the complexion of impurities and prepares it for a product lineup packed with replenishing and protective ingredients. At nighttime, the step is so vital, it's often done twice. Known as double cleansing, the method is exactly what it sounds like: the face is washed consecutively using two different types of cleansers. But the two-step technique isn't as counterintuitive as it may sound. Each plays a unique role and together, double cleansing thoroughly washes the face, removing all of the makeup, products, and dirt that sits on the skin throughout the day.
While double cleansing has gained popularity over the years, the method is far from new. Originating from Japanese and Korean beauty rituals, it includes using oils to dissolve and remove heavy makeup before washing the face. The concept remains effective today, so it comes with little surprise that these makeup-melting products are trending again. From reviews to reveal videos, double cleansing has the internet buzzing, and as a result, more brands are adding oil-based cleansers to their product lineups.
The idea of adding another step to your routine might seem fruitless, but there are many benefits to double cleansing. Ahead, TZR tapped two dermatologists for their insight on the advantages of washing your face twice, plus how to incorporate the method into your nightly regimen.
How Does Double Cleansing Work?
Like many skin care practices, double cleansing employs a basic scientific principle for effective results. In this case, the concept 'like dissolves like' describes how an oil-based cleanser — either in a liquid or solid balm form — is used to break down emollient-heavy products like makeup, creams, and SPF as well as sebum naturally found on the surface of the skin.
Dr. Shereene Idriss, M.D., board-certified dermatologist, founder of Idriss Dermatology, and creator of the Instagram series #PillowtalkDerm, tells TZR that step two involves washing with a water-based cleanser, such as a gel, foam, or cream. "The second cleanser removes any remaining gunk and pollutants to clean the skin more deeply and thoroughly," she says.
What Are The Benefits Of Double Cleansing?
Makeup removal is vital for healthy skin. But the truth is, standard face washes aren't really equipped to completely take off all the layers of products and effectively clean your skin. "Using an oil-based cleanser to dissolve makeup before washing will help prevent clogged pores and unwanted breakouts, says Dr. Idriss. She also notes that cleansing a second time with a product meant to replenish the skin will provide the best canvas for absorption of the products you apply afterward.
How To Incorporate Double Cleansing Into Your Routine
"You'll want to begin by taking the oil-based product in your hand and gently massaging it directly onto your face," says Dr. Jaimie DeRosa, M.A., double board-certified facial plastic surgeon and founder, and lead facial plastic surgeon of DeRosa Center Plastic Surgery & Med Spa. For this portion, no water is needed to loosen the layers of sunscreen and makeup. After rubbing the oil in, wipe your face using a soft washcloth or rinse with a few splashes of lukewarm water.
At this point, your face will feel greasy, but that's normal since the oil still needs to be washed off. Remember: Step one is about breaking down the product while step two is meant to clean the skin. "Next apply the water-based cleanser to damp skin and wash your face as you normally do before continuing your routine," says Dr. DeRosa.
What Products Are Used For Double Cleansing?
Cleansing oils and balms are the traditional oil-based products used in Japanese and Korean beauty regimens. And while they serve the same purpose, they offer different user experiences. "Cleansing oils are liquid in form and have a lightweight, oily texture that spreads easily on the skin, whereas cleansing balms are solid and melt into an oil-like consistency when massaged onto the skin," says Dr. Idriss.
Formulated with light nourishing oils like jojoba, cleansing oils are gentle on the face. Dr. DeRosa notes that the unique blend of oils, waxes, and butters that give cleansing balms their solid texture also makes them super effective at removing stubborn makeup products and are less messy to use.
The second step of double cleansing involves using a water-based cleanser to break down the oils and effectively remove them from your skin. These types of cleansers can come in several forms ranging from gel, foam, and even cream. "I like to recommend gentle water-based cleansers such as Cetaphil Gentle Skin Cleanser and CeraVe Hydrating Facial Cleanser for those new to double cleansing because the get the job done and work well with most skin types," says Dr. DeRosa
The Best Double Cleansing Products
Cleansing Oils
Cleansing Balms
Face Washes