Get To Know Succinic Acid: The Buzzy New Acne Ingredient
TZR; Shutterstock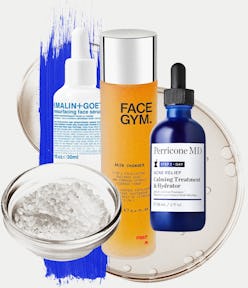 We may receive a portion of sales if you purchase a product through a link in this article.
With new products, brands, and categories popping up every day, beauty can be a bit overwhelming. Back to Basics is our rudimentary beauty series that serves as your crash course on the science behind some of the best formulations in the game. This week, we're taking a look at succinic acid for your skin.
In the world of skin care there is an infinite revolving door of buzzy ingredients and new techniques aimed to bring forth your best skin, whether than entails brightening and evening tone, strengthening the skin barrier, or clearing breakouts for good. In the case of the latter, popular acne ingredients like salicylic acid and benzoyl peroxide are effective at exfoliating to unclog pores and kill bacteria that causes acne — but they can be drying and often too irritating for sensitive skin. When dealing with acne, it can be tempting to gravitate toward the latest hyped ingredient, but before introducing anything new to your routine, it's important to know why the ingredient is suddenly so desirable. Take the use of succinic acid for skin — the naturally occurring acid that not only helps with acne, but can also soothe sensitive skin, fight the effects of aging, and increase hydration.
With the above benefits, it's easy to see why succinic acid is quickly gaining attention online and beginning to frequently show up in more products. Ahead TZR spoke with three skin care experts to find out all the details on the rising skin care ingredient, including its benefits and how to add it to your daily routine.
What Is Succinic Acid?
Succinic acid is a naturally-occurring acid that can be found in common vegetables such as broccoli, asparagus, and other plants. According to celebrity esthetician and founder of Ildi Pekar Skin Care, Ildi Pekar, it's derived from sugarcane and produced during the fermentation of sugar, but it is also organically found in both plants and animal tissues. That said, succinic acid has been around for decades before its newfound fame in the beauty industry. "It currently seems to be having a renaissance in skin care despite being used in formulations for years — especially in Japanese and Korean beauty products focused on hydrating and moisturizing," she says.
What Are The Skin Care Benefits Of Succinic Acid?
When formulated in skin care products, succinic acid acts as an anti-microbial agent and has antioxidant properties. Dr. Jodi Logerfo, dermatologist and nurse practitioner says that thanks to its ability to inhibit microbial growth, succinic acid can be useful regarding acne and breakouts.
Succinic acid also has anti-inflammatory effects and great moisturizing properties. "As an anti-inflammatory, it soothes inflamed skin conditions such as eczema and psoriasis in addition to acne," she says. And its effectiveness only increases when paired with other skin-loving ingredients. "Succinic acid is especially valuable when it is used with hyaluronic acid as it may able to assist in renewing and rejuvenating aging or damaged skin by increasing strength, firmness, elasticity, and suppleness."
How To Incorporate Succinic Acid Into Your Daily Routine
Dr. Tracy Evans, board certified dermatologist and medical director of Pacific Skin and Cosmetic Dermatology, tells TZR that in comparison to other commonly used ingredients such as salicylic acid, benzoyl peroxide, and retinoids, succinic acid is mild enough to be used every day. "Unlike other acids such as AHA's and BHA's, succinic acid is more antimicrobial and anti-inflammatory focused than resurfacing," she says.
With that in mind, it's a good idea to see where succinic acid can fit into your routine. "One of the best attributes of succinic acid is that it can be used in a multitude of products including moisturizers, serums, and topical spot treatments," Pekar says. If you're choosing to use succinic acid for frequent acne flare-ups, you'll want to opt for a product that is targeted specifically for affected areas. Similarly, a lotion or calming serum would work best for soothing and skin sensitivity.
Are There Any Side Effects To Using Succinic Acid?
As Dr. Logerfo notes, all products — particularly those meant for acne and anti-aging — have the potential to cause irritation with overuse. Based on the product you choose and the frequency of use, you'll want to monitor how your skin is reacting to the addition of succinic acid.
If your skin tends to be overly sensitive you should consult your doctor or dermatologist before continuing use. "You should also avoid using succinic acid if you have open acne breakouts or any other condition which causes your skin to broken or frequently irritated," she says.
The Best Succinic Acid Skin Care Products