It's Hard *Not* To Feel Royal While Using RANAVAT's Decadent New Cleanser
Self-care for the skin and soul.
Courtesy Of RANAVAT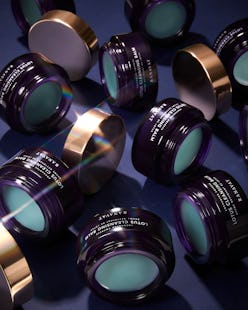 We may receive a portion of sales if you purchase a product through a link in this article.
The best beauty products offer real substance, but they're about far more than just function. Of all the skin care brands to emerge in the past several years, Michelle Ranavat's eponymous line might have the concept of a true multi-sensory product down. It's never more noticeable than when using the brand's newest launch. RANAVAT's Lotus Cleansing Balm absolutely succeeds at melting away makeup, sweat, sunscreen, and general grime, sure, but the refreshing effects of the balm extend far beyond just squeaky-clean pores. Rooted in ancient Ayurvedic botanicals and self-care rituals, every aspect of the cleanser implores the user to slow down, handle your own skin with care, take a deep breath, and prepare to relax. And that's precisely how Ranavat designed it.
The brand founder built her well-respected name on the seamless marriage of robust, effective formulas with luxe, decadent ingredients, packaging, and the sort of special touches that far too many consider unnecessary. The entire RANAVAT line been steeped in intention and South Asian tradition since its inception, but consider the process perfected with the Lotus Cleansing Balm's release. "The Ayurvedic power of lotus seed is immense, and I wanted to create a product that brings both the symbolic nature and efficacy of the ingredient together for a unique and harmonious experience," Ranavat exclusively tells TZR. Symbolizing beauty and purity in South Asian cultures, she explains that the lotus plant actually emerges from murky waters to open up, blooming into a fragrant flower — "a concept that feels so personal to me," she adds.
When she set out to develop the cleansing balm, Ranavat's mind was focused on the same principles that made the wider line such a success. Much of the brand is a nod to the opulent, culture-incorporating beauty practices of Rajasthan royals, reflected in the aesthetics and sensory nature of each product. "From the scent, color and rich royal jelly-like custard of the product itself, to the makeup removing capabilities — I wanted to tell the story of self care and South Asian heritage through the product itself," Ranavat says. Along with antioxidant-rich lotus and the protective mango butter that accounts for the balm's moisturizing jelly texture, Indian jasmine and blue tansy lend an invigorating, botanical-but-better scent and calming blue color.
While the soothing, cleansing balm generally works for all skin types, drier complexions will especially appreciate how well the formula traps and adds in moisture. As is the case with most oil-based or thicker balms, following up with a cream or foam double-cleanse is best for oily or acne-prone skin. Of course, everyone can get in on the idea of a methodical, enriching wind-down moment. In her personal life, Ranavat subscribes to the idea of combining scent with sound for the ultimate end-of-day relaxation. After sharing a pot of saffron-infused Ayurvedic tea with her beloved sons, then launches into her skin care routine, often scented by RANAVAT's opulent Ritual Candle."One easy way to elevate your evening skincare is to add massage elements in between steps," she suggests, calling it a great addition to her own routine. Sounds like yet another job for that silky, dreamy-scented cleansing balm.