This Plant Ingredient May Be The Key To Naturally Supple & Glowing Skin
Get to know camellia seed oil.
TZR; Shutterstock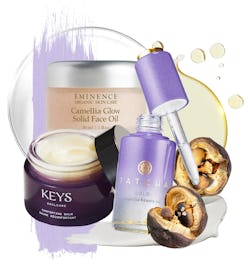 We may receive a portion of sales if you purchase a product through a link in this article.
With new products, brands, and categories popping up every day, beauty can be a bit overwhelming. Back to Basics is our rudimentary beauty series that serves as your crash course on the science behind some of the best formulations in the game. This week, we're taking a look at camellia seed oil for your skin.
There are a few skin care results that will always be high on the radar for beauty enthusiasts. For example, firm, plump skin with fewer wrinkles are just a few of the desired outcomes from the products in many daily routines. But whether it's via a cream or a serum, the journey for these results often leads back to ingredients found in nature. The use of camellia seed oil for skin is one such example.
If you're a fan of Asian cuisines, you may already be familiar with it as it's frequently used for dressings and cooking techniques like sautéing and stir frying. But its uses extend far beyond the kitchen. Rich in vitamins and antioxidants, it's no surprise that camellia seed oil has burst on the scene as one of the top plant oils in skin care.
Its unique texture and deeply hydrating properties — which can be attributed to a distinct chemical makeup — are likened to other popular nourishing oils such as argan and olive. However, where those solvents lack versatility, this one excels by not only moisturizing skin, but improving elasticity and fighting against signs of aging, too.
With the skin care space's increasing interest in barrier protection, camellia seed oil is making its way into many beauty cabinets. As an emollient, it ensures skin stays hydrated, making it extremely valuable for parched skin — especially post-winter. Ahead, TZR tapped two dermatologists to break down the basics of this golden ingredient and how to add it to your routine.
What Is Camellia Seed Oil?
Derived from a tree native to Southeast Asia, camellia seed oil is an amber-colored liquid that is extracted from the seeds of the flowers using a cold-pressed method. There are two well-known species — camellia japonica, found in Japan, and camellia oleifera, which is indigenous to China. Respectively, each type of tree also produces a different kind of oil unique to its location. In Japan, the camellia tree yields tsubaki oil while the liquid obtained from trees in China is simply referred to as camellia seed or tea oil (not to be confused with tea tree oil).
What Are Its Skin Care Benefits?
According to Dr. Shereene Idriss, board-certified dermatologist and founder of Idriss Dermatology camellia seed oil is best known for its intense moisturizing abilities and antioxidant properties. "It's an emollient with around 70% to 85% fatty acid which heavily includes oleic acid (Omega 9) — the main component found in the esters of olive oil," she says. This gives the substance a uniquely rich and smooth texture.
Many skin-loving ingredients such as squalene and vitamins A, C, D, and E naturally occur in tea seed oil. Together these components aid in skin hydration, moisture retention, cellular growth and repair, and barrier protection. Additionally, vitamin E is an antioxidant that neutralizes the effects of free radical damage commonly caused by environmental pollutants.
What Are The Side Effects & Who Should Use It?
Clogged pores and acne are major concerns associated with the use of facial oils, but Dr. Karan Lal, board-certified dermatologist, assures that camellia is lighter in weight and should not be comedogenic.
"It can be used on any skin type, however because of its abundant fatty acid content it works best for those with dry skin," he says. Those with combination skin can also benefit from using tea oil but, as Dr. Lal recommends, should be careful about mixing it with other ultra-rich products.
How To Incorporate Camellia Seed Oil Into Your Skin Care Routine
Camellia seed oil can easily be incorporated into morning and night-time routines. "For dry skin, it works well as the key ingredient in lightweight moisturizing products," Dr. Idriss says. And if you're accustomed to using facial oils, camellia can be used directly on the skin by patting it on top of your moisturizer for a double dose of nourishment. "I generally recommend people use oils after using serums and water-based skin care products to help seal off the skin and provide a subtle glowing effect," Dr. Lal says.
Shop Camellia Seed Oil Skin Care Products