Here's The K-Beauty Serum Literally All Our Beauty Editors Ran Out To Buy
Written by Marissa Olivia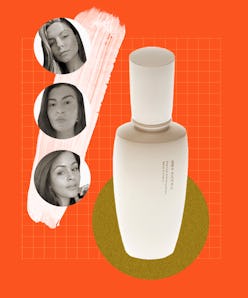 When you're a beauty editor, there's a lot of noise around skin care products. Hundreds of brand pitches land in our inboxes every day touting the next "big thing" in the beauty industry: products promising transformative results, skin care that perfectly matches the latest social media trends, and so on. It can be quite the challenge to clearly define what's worth trying and what actually works when there's always a next big thing.
With that said, there are some elements that make a product stand out, like word of mouth — if other beauty editors and industry experts are recommending it, it's probably really good — clinical studies, and longevity. It is exactly these elements that enticed our own beauty editors to run out and buy Korean beauty brand Sulwhasoo's First Care Activating Serum, specifically citing its cult following, impressive science backed by decades of research, and even more impressive sales data. In fact, in celebration of the product's 25th anniversary, the brand recently launched a limited-edition, Korean white porcelain-inspired bottle. The formula also undergoes regular updates to maximize the efficacy and complement its proprietary complex, so it stays up to date on the latest science.
As a "prep serum," the silky, gel-like texture of First Care Activating Serum is meant to be used as the first step of your skin care routine post-cleanse for maximum absorption of ingredients and to allow subsequent products to optimally sink into skin. From a clinical study of 32 Asian women ages 35 to 56, enhanced skin radiance, hydration, and skin translucency were reported after just eight weeks of use, but we'll let our resident experts tell you all about their personal experiences with the serum here. Because, as beauty editors know, good reviews from people you trust are always the best hallmark of an exceptional product…
Irma, Beauty Director, Branded Content
My dry, redness-prone skin instantly started feeling calmer.
"The first time I heard about Sulwhasoo's First Care Activating Serum was about a decade ago when I started my career in the beauty industry. I finally decided to try it after I kept hearing about how it's been a cult favorite for so many years and that one bottle is sold every 7 seconds globally.* Upon testing, my dry, redness-prone skin instantly started feeling calmer. After a few weeks was when I started noticing even more magic: The fine lines around my eye area felt less noticeable because of how hydrated and plump my skin was. I love how lightweight and luxurious the formula feels on my skin. I gently tap it onto clean skin, then I apply my vitamin C serum, moisturizer, and sunscreen. I've been using it for such a long time now and my skin looks and feels so good, I'll never switch to another prep serum product."
*Based on aggregated global unit sales data excluding duty free stores from 2020-2021.
Shyema, Associate Beauty Director, Branded
As a prep serum, it's the first skin care product to use post-cleanse to help boost the efficacy of skin care products you use next.
"We see, review, and try so many products, it's not always easy for one to stand out to us, so when my fellow beauty editors were discussing how intriguing all the studies and science behind First Care Activating Serum are, I immediately added my first Sulwhasoo product to cart. Since then, it's become a twice-daily ritual I look forward to: taking time to take in its relaxing, earthy scent first before gently tapping it onto my skin. My skin quickly absorbs the non-greasy finish, which I love. I realized there was a little bit of a learning curve to using it — like the fact that as a prep serum, it's the first skin care product to use post-cleanse to help boost the efficacy of skin care products you use next. I eventually added their Concentrated Ginseng Renewing Serum and Cream to my routine, and it's been a game-changer. After a few weeks, my complexion looks more even-toned and brighter. I'm a new mom and don't get a lot of sleep, causing my skin to look lackluster and sunken-in: This trio breathed new life into my skin. I even noticed my makeup going on much more seamlessly and smoother after starting this ritual — I'm very intentional with calling it a 'ritual' because I like to think of it as a time of indulgence to focus and take care of myself, de-stress, and really take in the moment of experiencing the luxury of these formulas. Side note: The prep serum bottle I picked up is the brand's 25th Anniversary Limited Edition bottle, and its porcelain-like finish is so chic. To me, it serves as a visual reminder to always give my skin the white glove treatment!"
Kaleigh, Beauty Editor, Branded
After a few weeks of using, I saw an increase in radiance and the little lines around my eyes looked smoother and less visible.
"Through reporting on Sulwhasoo's First Care Activating Serum, I learned not only about its 25 years of research, but the brand's innovative JAUM Activator™ technology which addresses not one or two but six different visible skin concerns. It impressed me enough to want to try it for myself. I'm turning 30 this year, so naturally aging is on the brain and I want to do everything I can to care for my skin and keep it looking as healthy as possible. The formula aids in hydration, minimizing visible fine lines and wrinkles, firming up the look of skin, reducing roughness, and more. And because the brand has all the research to back up its claims, I really trust in the reliability and efficacy of the formula. Immediately, I noticed my skin looked noticeably more hydrated, plump, and bouncy. After a few weeks of using it, I saw an increase in radiance and that the little lines around my eyes looked smoother and less visible. I also think it's helped with firming up my jawline area a bit, too! I already picked up a backup bottle of the First Care Activating Serum for myself, and I'm planning on gifting their gorgeous limited-edition version to my mom for Mother's Day."