14 Insanely Cute Short Haircut Ideas For Summer
No matter your texture, there's a chop for you.
Sharif Hamza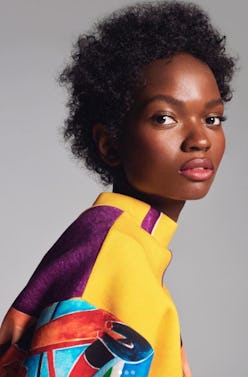 Less hair doesn't mean fewer styling options. Just look at all the cool celebrity buzz cuts, mullets, and afros that have hit the scene this past year and are poised to continue trending this season. Plus, from a purely practical standpoint, short hair for the summer is a great way to beat the heat and humidity.
Although short hair requires a bit of maintenance, with the right products and styling tips, your haircut can be a gorgeous beauty statement all summer long. "During the summer make sure you are using the right products," says Kristen Anderson, celebrity hairstylist and Aveda Institute Cosmetology Instructor, "You'll need a humidity protector to defend against the humidity and sun care products to protect your hair from sun exposure to minimize damage and dryness."
Read more: How To Trim Split Ends At Home Like A Pro, Even If You're Definitely Not One
When going short, it's important to consider your texture, face shape, and the amount of maintenance you are comfortable with. "Short haircuts grow out and loose shape much more noticeably than long hair," says Leigh Hardges, stylist at Maxine Salon, which means regular salon appointments are a must to maintain the style. "Consider how you plan to wear it and how often you may need to use heat for styling. A shorter haircut will provide the benefit of a more finished, intentional look as opposed to a wet ponytail or bun. It can [also] help lift the face resulting in a much [more youthful] look."
Of the top styles Ted Gibson, celebrity hairdresser and salon owner of Starring, is seeing curtain bangs (a lower commitment chop) and the newish pixie (a modern take on the traditional style with more movement and length) as the biggest haircut trends for summer.
Ahead, learn about the short haircuts that the celebrity hairstylists clients have been seeing on repeat this season. Whether you've been thinking of cutting your hair short, or have short hair but you're contemplating a new style, the experts have the 14 perfect trends to inspire your new look, regardless of hair type or texture.
Breezy Bob
As seen on Kaia Gerber, the breezy bob is a great option for straight hair that craves movement. To style: blow-dry hair with a round brush and take a flat iron or curling iron to create a bend at the ends — both away from your face and towards — for a more natural look. "Having the right type of brush for blow drying your hair type is paramount," Hardges adds, "Height and volume really help a short style look fabulous." And if you're on the hunt for the perfect brush, Gibson recommends one from Mason Pearson.
Textured Pixie
The key to this type of pixie is a good texturizing spray to create a tousled texture. Anderson also recommends, "Tying your hair down at night or sleeping with a silk bonnet or scarf to keep your hair in place and smooth so you have less work to do when styling in the morning."
Mullets
Mullets have been everywhere lately. This ode to the '80s has a modern spin on it, bringing out all the natural texture with the hair in the back, flowing straight down, with the top of the crown housing the most hair. Hardges encourages this style for anyone with wavy to straight textures. "You'll want to keep it smooth with not too much volume," she says, "Then style it piece-y or with some waves."
Hair Wigs
"Wigs can be a protective style for a lot of people, but it can also be an accessory," says Anderson, "You can change your look everyday if you would like without having to permanently alter your own natural hair." A colored wig could be your solution to trying out all the orange and red hues that have been trending too, and ideal if you want to test the waters with a cropped cut.
Classic Buzz Cut
Buzz cuts are great for the emphasis they bring to the cheekbones — there's truly nowhere to hide (which is a good thing for highlighting your features!). Although a super cropped cut requires little styling, if you have a bit of growth, you can brush hair down with a bristle brush and mold with a scarf until dry. Top off with a softening hair oil. If you are doing this one at-home, cut with clippers and shave it all off. And to maintain the shape of the cut, Gibson and Hardges encourage clients to get a cut or trim every six weeks. "The buzz cut loses its edge once it starts to grow out so remember to clean up your neckline and around your ears," says Hardges.
Box Braid Bob
Anderson loves the box braid trend for a low maintenance and stress-free hair routine, especially in the summer when you want to (and can this year!) spend more time outside. When styling, make sure you lay your edges with a good head wrap to sleep and a leave-in conditioner to hydrate. And if you're looking to accessorize this style, add in some beads or hair jewelry!
Undercut
"This style cuts the hair below the occipital bone and around the ears very low, to allow for longer lengths on top to bevel over," Hardges tells TZR. While great for those with an abundance of hair, "The important thing to remember is that you have to have enough length on the top," says Gibson, "If you don't you can always use extensions to create it." For thick or curly hair, the undercut is especially ideal for summer as it will remove bulkiness and help to cool off your neck and scalp.
Curtain Bangs
As we've seen on countless celebrities, curtain bangs are having a moment. The retro fringe is great for those who like to highlight their features with a shorter cut but aren't quite ready to lose every inch of length. Ask your stylist to keep the edges longer than the middle — cutting first at the center of the eyes and working towards the jawline. And as an expert tip: "Make it a habit to apply a light oil to your hair two to three times a week or as needed for your texture and density," says Anderson, "Short doesn't mean you get to skip steps. Always make sure your hair is moisturized because dry hair equates to breakage."
Asymmetrical Bob
Cut shorter in the back and longer in the front, asymmetrical bobs are great on a variety of hair types and textures. Sitting above the shoulders, Hardges recommends air drying or smoothing out with a dryer and thermal tools to create the sleek look at home.
Textured Layers
Textured layers are a fabulous structural cut on type 4 hair. Gibson recommends that if you have thicker hair, ask your stylist to trim into a more rounded shape to create an effortless look for summer.
The Newish Pixie
"The pixie cut will always be a trend in my book," says Anderson, "There are so many different ways to rock this style, whether curly or straight. [The new pixie] gives you the freedom to play around with looks while keeping it sassy." Although similar to the traditional pixie, the newish pixie doesn't have to be as short or have as much top hair, according to Gibson. It can be worn curly and easily blow-out for a straight moment, making it a great "wash and go" style.
Modern Shag
Great for both straight and curly hair, the shag cut requires lots of layering to help create a chic, lived-in look. Wear it with or without bangs, and "get comfortable with teasing (for fine straight hair) or lifting those curls with an Afro pick," Hardges says. She also recommends having your neckline cleaned regularly, "Like every two to three weeks to polish off your short cut."
Rounded 'Fro
All over the country, people are embracing natural curls and coils and the rounded 'fro is one of the most popular looks for summer. Your hair will stay healthy and full as this cut trims the ends to help shape the natural curls into the roundest form possible. For this style, opt for a sulfate-free shampoo and avoid shampoos that lathers to keep curls hydrated — that will prevent the stripping of natural oils which can sap your hair of much-needed moisture.
Chin-Length
Able to be worn either straight and structured, or curly and sharp, it's no wonder the chin-length cut is making a comeback. It's a great go-to for thin, fine hair as it gives you the illusion of fuller hair and adds some movement to lackluster textures.