Miley Cyrus' New Haircut Officially Makes The Mullet A Trending Style For 2020
Kevin Mazur/Getty Images Entertainment/Getty Images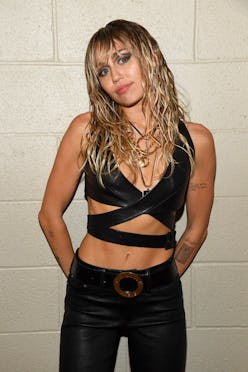 In 2020, Miley Cyrus is on a mission. And yes, introducing new music to her eager fans is part of it, she promises, but it's not the only item on the musician's ambitious agenda. It would seem that she's also on a solo crusade to redeem a throwback haircut worn by countless of her rockstar predecessors: the mullet. And before you write it off as a style only appropriate for someone who takes to the stage as often as she does, take one look at Miley Cyrus' new mullet haircut — you might just be inspired to try her modern take for yourself.
Read more: Should You Cut Or Color Hair First? Pros Weigh In
Cyrus' hair transformation actually begun before the books closed on 2019, as she started gradually shearing length off her strands in a choppy fashion that began to closely resemble none other than the mullet. In November, her mom even got in on the action, giving Cyrus a shoulder-length cut that featured the telltale longer sides and edgy face-framing layers.
But to start the new year off fresh, Cyrus put her hair back in the hands of her longtime hairstylist Sally Hershberger to take her cut to the next level. And the result more than brings the mullet into this decade.
Clearly Cyrus is pleased with Hershberger's work, considering the trio of multi-picture posts she uploaded to her Instagram page on Jan. 6. "New hair. New year. NEW MUSIC." Cyrus captioned each photo, promising her followers that 2020 is set to be a record year for the star — starting with the sharp chop.
Hershberger trimmed the length even shorter, so it now hits just below Cyrus' chin, and infused plenty of edge by way of shaggy layers and a mussed fringe. Bleached blonde color completes the punky rockstar vibe. As told to Refinery29, Hershberger relayed that the modern shag-mullet hybrid was created by taking a razor to the star's hair for an choppy effect, and the transformation is much more than just a cut; it's indicative of Cyrus' whole 2020 mood.
"It's a very fashion-forward, yet no-fuss look," Hershberger told the media outlet. And styling it couldn't be easier, too. Hershberger simply took a blow dryer to the strands for a rough dry, before applying some finishing products from her line for a piecey look.
Chic-but-effortless is a hairstyle just about everyone can probably get behind in the new year, no? So, consider Cyrus' low-maintenance cut if you're looking to make a big hair change (without adding minutes to your morning routine).
Shop The Look