When It Comes To Perfume, It's OK To Be Bitter
Why the latest trend in scent is all about tart, sharp notes.
@anticafarmacista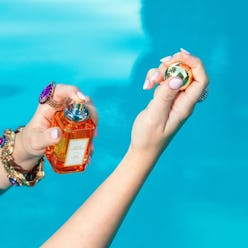 We may receive a portion of sales if you purchase a product through a link in this article.
Fragrance is known for its ability to entice our senses. Sweet gourmands, lush florals, creamy musks, earthy woods — each sounds as appealing as it smells. But, the latest trend in scent is notable due to the fact that it's not typically one that people find themselves craving. Despite that simple truth, bitter notes are having an undeniable moment in fragrance, popping up in some of the most anticipated launches of the season — even sparking their own mini trend in the form of cocktail-inspired scents.
From grapefruit to wormwood (a.k.a. absinthe), petitgrain to coffee, there's no shortage of bitter notes in classic perfumery over the years. "Bitters bring in a level of contrast to a fragrance and they can balance out sweetness," explains Frank Voelkl, principal perfumer at DSM-Firmenich. "To me, sweet and creamy notes are the opposite of bitter ones, and so they act almost as a counterbalance to them and can also add a point of differentiation to a fragrance."
While bitter notes have been in fragrance since pretty much the dawn of perfumery, you can thank sweet gourmands for their recent resurgence, says perfumer Fabrice Pellegrin, the nose responsible for Diptyque's newest scent, Eau Nabati. "The enthusiasm for bitter scents can be explained by the fact that they offer a new form of addiction, a real alternative to gourmand, sweet fragrances," he says. "Bitter notes add a sophisticated, unique touch to compositions. It's this elegant, original touch that appeals to consumers who want to assert their personality."
Adds Olya Bar, digital strategist at niche fragrance boutique Twisted Lily, "One of the biggest drivers is the fact that the fragrance market has just exploded in the past few years. People today are a lot more open to all these different directions and genres in perfumery and less afraid of adjectives like bitter. For any brand that is trying to break boundaries and do something progressive and different and bold and modern, that's where the earthiness and bitterness comes in."
The Bitter Notes Family
Similar to gourmands, bitter notes fall into a variety of different categories from earthy to citrus to decadent, explains Bar. There are green and herbaceous notes like galbanum, oak moss, immortelle, basil, oregano, and wormwood. Then there are the citrus bitters like grapefruit, neroli, bergamot, bitter orange, and petitgrain, which Pellegrin says "radiate freshness, liveliness, acidity, and a delicate bitter tone." Finally, you have gourmand bitters like coffee and chocolate. However, Bar says these are more acidic than their sweet gourmand sisters. Think espresso and dark cacao as opposed to a latte and milk chocolate. As Pellegrin explains, these versions offer scents "a darker dimension — a subtle bitterness that gives depth and richness to the fragrance."
A Long, Bitter Love Affair
For perfumers, bitter notes allow for added complexity and dimension when creating a scent. "The bitter notes add an interesting tonality, bringing vivacity and sparkle to the fragrance," says Pellegrin. "They give dimension and are, at the same time, sparkling, joyful, and elegant. In both men's and women's fragrances, bitter notes can be used to contrast warm, spicy fragrances, or to brighten up aromatic notes, which makes them very popular." In fact, according to Bar, bitter notes can be traced back to the origins of eau de cologne. "The classic structure of an eau de cologne was rosemary, bergamot, sage, geranium, lemon, bergamot, neroli, petitgrain, grapefruit, and verbena," she says. "A lot of these classic accords used in male eau de colognes are finding their way into perfumery today as its own category and it's refreshing to see."
While they may not be as straightforward appealing to consumers as, say, a vanilla or a rose note, according Shelley Callaghan, co-owner and creative director of Antica Farmacista, it's all about educating fragrance lovers about their appeal. "If you look at notes like patchouli, or amber, or musk — these things on their own were never appealing, but when blended and balanced with a really beautiful composition, that's when it gets really interesting," she says. "Taking those things that are bitter or animalic that you might not be immediately drawn to and being open-minded that small elements of those are really going to help round out and create interesting products or scents we haven't smelled in a long time…that can be really gorgeous."
The Gourmand Fragrance Fatigue
Turns out that a bitter perfume pill might be just what we need after a sugar crash. While the depths of COVID brought out an inner craving for all things cozy and nostalgic, we might have hit peak sweet. "The last few years with the pandemic, people retreated to nostalgia and cooking at home and there was really this movement towards that sweet gourmand nostalgic," says Callaghan. "But I think we're moving more into a wellness, therapeutic movement now and you're seeing bitter play into that as traditionally bitter has cleansing elements to it." As Bar notes, bitter is the antidote to everything sweet that has dominated the market. "The pendulum has to swing in a completely different direction because you have all the sweetness and florals and really big, lush fragrances," she says. "But now you have the complete opposite which is these structured, green, kind of cool and refreshing, but also a little bit more restrained and elegant and refined scents. It's almost like 'are you a piña colada girl or a dry martini girl?'"
Perfume Meets Mixology
In fact, the larger bitter trend has popped up with its very own micro-trend in recent months. From absinthe to martinis, cocktail-inspired scents are gaining traction in the fragrance world and it's all made possible with the help of bitter notes. "Drink-inspired fragrances are definitely having a moment, across all types of brands, from high-end to specialty retailers," says Voelkl. "We often see a relationship between what people taste and what they want to smell and these bitter notes are another way to explore a new sensorial pleasure." Callaghan notes that the combination of more time at home and social media access to first-class mixologists has heightened people's appreciation for cocktails and creating more intricate drinks of both the alcoholic and non-alcoholic variety. "You have people asking what is vermouth, what are these bitters on my bar cart that I've never used?" she says. "There's just been so much more emphasis on taking your time to build and create something. Stepping back and taking time to educate ourselves a little bit."
Antica used that curiosity as an inspiration for its latest collection of home and personal fragrances inspired by everyone's favorite summer cocktail, the Aperol Spritz. Pellegrin agrees, adding, "It's somewhat logical that bitter notes are becoming more and more popular in perfumery, as they have established themselves in the realm of taste. Gin, aperol, and campari have become popular spirits in recent years, and people are looking to be quenched by this shot of bitterness and freshness. Fragrance is a dialogue with the senses, and of course draws inspiration from different worlds."
We're still in the early days of the bitter revival, according to Bar, but the interest is growing. "These scents are for sophisticated palates, but I think as people are opening up their minds and their palates to all that fragrances can offer, we're seeing a lot more of this playground that perfumers are enjoying," she says. "It's expanding and they're definitely becoming riskier with what they are able to do and what they are able to bring to market."
Ready to explore your bitter side? Below a few standout bitter fragrances from past and present to help you discover the sassier side of scent.