The 10 Best Hand Creams For Instantly Soft Skin
@browngirlhands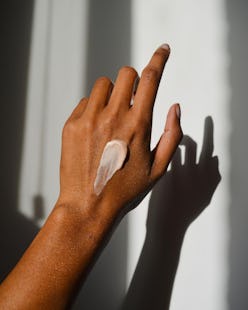 We may receive a portion of sales if you purchase a product through a link in this article.
Join TZR editors for Main Squeeze, the series dedicated to sharing beloved beauty products — be they bold, effective, or simply fun — that make our week just a little bit better. Ahead, Team TZR spotlights their favorite hand creams of the moment.
It's pretty common to shift your skin care routine with the changing seasons. With the arrival of colder temperatures comes the threat of dryness. But packing your regimen with nourishing ingredients and rich textures is ideal for maintaining healthy skin throughout the fall and winter seasons. That same ethos also applies to the skin below your neck, including the outermost extremities like your hands. On a daily basis, your hands are subjected to harmful stressors, like sunlight, blustering winds, and environmental pollution. However, incorporating a rich salve can help minimize those harsh effects. Much more than a body lotion, the best hand creams offer soothing relief for cracking skin as well as intense hydration — a crucial trait for this time of year.
As the first point of contact, your hands endure many activities that can cause it to become rough and irritated throughout the day. Frequent washing or use of hand sanitizer, for example, can impact the skin's barrier and decrease its ability to retain moisture. But finding a good, enriching cream can give you a leg up in the fight for supple and soft hands. The hunt can feel arduous at times, with some formulas being too watery or, even worse, too greasy. But with the curated list below you'll easily be able to select a cream that best suits your skin's needs.
"I probably apply hand cream at least three to four times a day, so I always have a tube on me. My favorite right now is this bergamot-scented option from Malin and Goetz. The cream absorbs quickly and doesn't leave my hands feeling greasy or oily, which is great when I have to type on my laptop." —Marina Liao, senior fashion news editor, TZR
"I've been getting better about using hand creams, and after much trial and error, I found the ideal texture and thickness in Augustinus Bader's that absorbs relatively quickly and keeps my hands moisturized all night while I sleep. I wake up with smoother, glowy skin!"—Kathy Lee, editor-in-chief, TZR
"While I understand (and appreciate!) the sensorial appeal of a scented hand cream, some make everything I touch stink. Thankfully, Nécessaire has made the ultimate fragrance-free hand cream. Not only does the niacinamide- and peptide-powered formula leave my hands ridiculously soft and smooth (without the need to reapply like lip balm), the aluminum tube ensures I use every last drop." —Erin Lukas, deputy beauty editor, TZR
"The best hand creams I've ever used have all been impulse buys at French pharmacies, so I was thrilled when this rich, luxuriant formula finally landed in stateside drugstores. You only need the teeniest bit, and it soothes your hands without the greasy residue so many lotions have." —Alison Syrett, deputy fashion editor, TZR
"I've long neglected my hands in the past, but I've been a bit more diligent in recent years since getting regular manicures. My nails just look better when my hands are moisturized and hydrated. So, I like to keep hand treatment nearby at home to apply throughout the day. While not technically a cream, this serum works just like one, brightening my hands in an instant. It's also super lightweight and absorbs quickly — I hate the thickness and weight of traditional hand creams." — Angela Melero, executive editor, TZR
"There is nothing worse than dry or cracked knuckles during the cold-weather months. My skin is particularly sensitive, so I typically opt for decadent hand creams. Kiehl's Ultimate Strength Hand Salve has been my go-to for years. It's ultra-rich and thick, making it the perfect overnight tool. I'll slather it on just before dozing off, and wake up with the softest skin!"— Rebecca Iloulian, director, newsletter revenue and marketing
"Looking at this hand cream sparks joy — the neon-green tube seems to radiate a happy energy wherever I happen to be storing it. The texture is balmy, yet light, and the mint and iris scent is so refreshing." — Faith Xue, executive beauty director, lifestyle, BDG
"I know I should wear gloves more often in the winter, but I just never do. As a result, my hands get incredibly dry once the temperatures drop. Fortunately, Eucerin's hand cream has saved me from painful cracked knuckles." — Kelsey Stewart, associate fashion editor, TZR
"It doesn't get much more indulgent than 111SKIN's signature hand cream. It's thick, it's luxe, and somehow, it manages to sink right into skin for instant moisture, plumpness, and a soft sheen that makes jewelry and nail colors look more alive than ever. If I ever neglect this step in my morning and evening routines, the difference is palpable — now that I know what cared-for hands really look like, I can never go back."— Amanda Ross, beauty editor, TZR
"Though it's made for your face, I began using a drop of this barrier cream on my hands last winter and instantly fell in love. It's extremely rich without feeling weighty or greasy and melts into my skin quickly, which is nice when I'm rushing to get out the door to work during the week. My hands tend to get extremely dry when the seasons shift, and I find myself frequently applying layers of lotion throughout the day. Unlike other hand creams, this only requires one application to keep my skin smooth and hydrated," — Jessica Fields, beauty writer, TZR