Go For Full-On Reinvention With These Exciting Spring Fragrances
The scents of the season, all right here.
@parfumsdemarly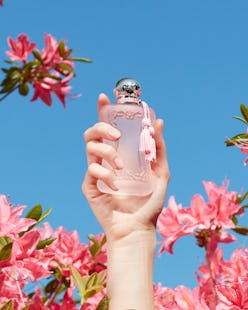 We may receive a portion of sales if you purchase a product through a link in this article.
If the spring air smells a bit more complex this year, it's more than just the fresh blooms. As the world turns a corner into a new season — the season of reinvention and rebirth, mind you — it's the perfect time undergo a mini-transformation of your own. Believe it or not, one of the easiest ways to revitalize your vibe is through incorporating an exciting new scent. Psychological studies show that fragrance alters the electrical waveforms in the brain, which can stimulate everything from alertness and confidence to long-time memory formation. Considering spring 2023's top fragrances are all so varied and different, discovering a new signature scent in time for the season might just make it truly unforgettable.
According to Autumne West, Nordstrom's national beauty director, the secret to a scent feeling distinctly spring-y is its ability to inspire that fresh, light-as-air feeling synonymous with the season. "Spring usually inspires a fresh change and a pivot to something lighter, like florals or citrusy notes, which is a break from anything that feels warm and cozy during the fall and winter," she tells TZR. But that's not to say you have to just stick to those classic notes. West predicts patchouli and even musks as unexpected but excellent note additions to a truly distinct spring fragrance. "You hear this and may think that feels heavy, but every time I dig into the notes of a fragrance I'm wearing or trying a sample of for the spring, it almost always has one of these notes included."
But any way you slice it, West says, you can't go wrong if you follow your instincts. Fragrance is both personal and highly subjective, she explains, but is still supposed to be fun. a "It's an outward expression of personal taste and style," she says. "You should wear what you like and experiment with new scents when you can."
Below, the very best of spring 2023 fragrances, rife for experimentation.
Best Spring 2023 Fragrance For The Office
Best Spring 2023 Fragrance For Those Who Miss Fall
Best Spring 2023 Fragrance For Dates
Best Spring 2023 Fragrance For Those Who Want To Splurge
Best Spring 2023 Fragrance For Nature Lovers
Best Spring 2023 Fragrance For Hopeless Romantics
Best Spring 2023 Fragrance For Artistic Types
Best Spring 2023 Fragrance For Traveling
Best Spring 2023 Fragrance For A Big Day Out