Your Shower Routine Will *Never* Be The Same With These Relaxing Body Washes
@tatcha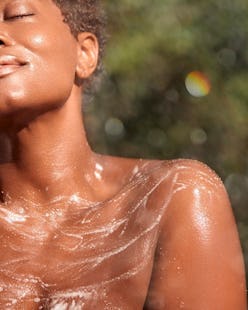 We may receive a portion of sales if you purchase a product through a link in this article.
Join TZR editors for Main Squeeze, the series dedicated to sharing beloved beauty products — be they bold, effective, or simply fun — that make our week just a little bit better. Ahead, Team TZR spotlights their favorite body washes of the moment.
If the "everything shower" trend hasn't made it clear enough, cleaning your body is just one aspect of bathing. With the right products, you can create a personal oasis and easily turn your ordinary routine into a spa-like experience. To do so, you don't necessarily have to go all-out by decorating your bathroom with bunches of dried eucalyptus and candles, but you do need more than just a bar of soap and your favorite loofah. Adding one or two of the best body washes into your daily regimen is an easy place to start. Designed to cleanse, moisturize, and invigorate your senses through scent, these formulas can instantly transport you away, and most importantly, improve the look and feel of your skin.
Dryness, for example, is one issue that can be solved by the right cleanser. Sure, body lotions can help, but washing your skin with a creamy formula packed with vitamins and natural butters will prevent moisture loss in the first place. If you're one of those people who relegate body care to the back of the brain (don't worry some of us do too), finding a quality bottle may feel like a chore. Luckily, the TZR team has compiled a list of their go-tos.
Ahead, the very best body washes that deliver smooth hydrated skin with every shower.
"This shower gel from Cowshed has now become an essential part of my nighttime shower routine. The soothing lavender and eucalyptus scent instantly helps any stress or worry from the day melt away, and it delivers such a satisfying lather. Plus, it leaves my skin feeling silky-soft."— Faith Xue, executive beauty director, lifestyle
"I keep things simple when it comes to body wash as I have super dry and sensitive skin. This Dove essential has been my go-to for years as its creamy formula is both gentle and hydrating, leaving my skin feeling nourished post-shower. The lavender scent is also so calming and really helps you unwind after a long day."— Rebecca Iloulian, director, newsletter revenue and marketing
"Any body wash that includes sea elements is sure to catch my eye, but what I love most about Saltair's Lush Greens is that it does so much more than cleanse. The serum-infused formula boasts skin care ingredients like niacinamide and botanicals like cactus flower and dewy leaves that make my skin feel hydrated and refreshed." — Jessica Fields, beauty writer, TZR
"I don't put much thought into my body wash choices as I'll usually use whatever my fiancé orders from Amazon (right now it is Cetaphil). However, my mindset totally changed when I tried Josie Maran's Argan oil formula. The product feels luxurious, hydrating, and silky smooth on my skin. My usual shower situation is hop in and hop out, but since using this body wash, I've really come to take my time in the bath as I feel relaxed and soothed. I want this travel set, which includes the brand's popular body butter, so I can keep up with the same pampered shower routine whenever I'm on the go."— Marina Liao, senior fashion news editor, TZR
"I feel like the Queen of Nature when I use Bathing Culture's Cathedral Grove wash. Not only is the glass vessel a key part of my tubscape (yes, that's a thing), but I can fully relax knowing that rich, foresty scent is the result of all-natural ingredients and fragrances. If I'm ever wound up in a funk, a hot shower, and good scrubbing with this always gets my mind right." — Amanda Ross, beauty editor, TZR
"Body wash is always a bit of an afterthought for me, something I throw in my cart while grocery shopping because I might need it later. But I happen to get all my food at a crunchy little health food store that carries the full Weleda line — which is how I discovered this super hydrating, under $10 (!!) gem. Something about its earthy, no-nonsense packaging but hyper-charged plant-based ingredients feels like the ultimate luxury to me; like something you'd find in a hidden, hole-in-the-wall spa that happens to have the best services."— Alison Syrett, deputy fashion editor, TZR
"The scent of this body wash transforms my daily showers into a spa-like experience. Despite its rich lather, the Manuka honey and shea butter-infused formula ensures my skin is squeaky clean but remains soft to the touch. Because it's for your body and hands, I've even used a bottle as my hand soap – the deep violet bottle looks so chic on my sink. (Even in my dated New York apartment bathroom.)"— Erin Lukas, deputy beauty editor, TZR
"I admit that body wash is often the last and final thought on my skin care shopping list, and I typically reach for the most affordable option — or what's on sale — at the grocery store. However, after testing out OUAI's body cleanser, I was sold on the concept of luxury formulas. In addition to the yummy tropical scent, this vegan wash is super hydrating and leaves my skin super silky and soft. It's literally a vacation in a bottle."— Angela Melero, executive editor, TZR
"I want my shower to feel like a spa experience — and the lemon and sage scent of this Bliss body wash does just that. The scent isn't too overwhelming, though. It lathers super well and leaves my skin feeling soft, and most importantly, squeaky clean."— Maggie Haddad, Sr. strategist, social media
"On the days when my skin is looking a little dull, I'll scoop a bit of this creamy body polish into a washcloth and lather up. The unique gel-to-milk formula of this wash is ultra hydrating and the addition of pumice grounds and rice powder gently exfoliate away any dead cells and restore my skin's glow." — Fields