The Surprisingly Simple Eyeshadow Trend That's Taking Over Our Newsfeeds
@lilyjcollins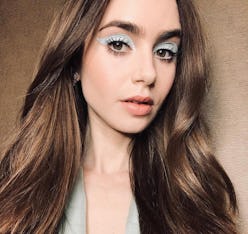 What do Lily Collins, Lupita Nyong'o, and Millie Bobby Brown have in common? Well, besides the obvious — they're brilliant, gorgeous, and talented — they've all rocked single eyeshadow looks lately. Celebs aren't the only ones loving the simplified style, either. Brands are into it (Pat McGrath Labs and Giorgio Armani Beauty both recently launched single color shadows), Instagram is into it (the trend is slowly but surely taking over your newsfeed), and next, it's your turn — with a little guidance from pro makeup artists.
"Monochromatic fashion is having a moment, and we see this reflected in the beauty space," Tim Quinn, Giorgio Armani's Beauty Celebrity Face Designer, tells The Zoe Report. According to the MUA, the look is trending for two main reasons: It's simple and it's sophisticated. "Everyone is in a rush, and using a single color is less fussy," Quinn says. "And a simple, chic, and clean look can elevate an entire ensemble." It also doesn't require the skill set of, say, meticulously blending every powder in the palette. Anyone can handle a single shadow, even beauty beginners.
"One color can be just as creative as five," Mary Irwin, a makeup artist who's worked with Sasheer Zamata, adds in an email to The Zoe Report. When worn in eye-catching shades like lavender, pink, or yellow, this kind of eye makeup harkens back to the swingin' '60s (think Collins' recent Met Gala makeup); and though it may appear bold, the style is easier to pull off than you think. "Yellow is shockingly wearable," Irwin says. "As a sheer wash of color or a brightly blocked look, it can be combined with a red lip, a coral lip, even a nude and be super polished."
Irwin is also a fan of green eyeshadow, for those feeling extra adventurous. "From a rich forest to a bright neon, green works on all skin tones and with all eye colors," she says. "It can be elegant, it can be sassy, or can be rebellious — it's just a great color." The makeup artist loves pairing a statement-making shadow with a flick of liner and a slick of mascara to frame the eye. If you're really ready to go for it, add a colorful lip to the mix. "Look at a color wheel," Irwin advises. "Whatever color is across from what you're wearing on your eyes will look great on your lips."
Thankfully, big and bold isn't the only way to try the trend. Quinn is a fan of a subtler approach, and likes Giorgio Armani Beauty's rose gold or lilac Eye Tints for a light wash of color. "All you do is stipple on one shade and move it around — these Eye Tints really diffuse themselves," he explains. When it comes to the rest of the face, Quinn suggests keeping everything in the same color family. "If you are going with rose gold, use a warm brown liner and mascara," he says. "Lilac, try for a plum liner with black mascara." As for lipstick? You can't go wrong with nude.
Ahead, nine individual shadows to add to your collection from Giorgio Armani Beauty, Pat McGrath Labs, Hourglass, and more.