This Is How Fashion Influencers Make Casual Clothes Look Cool
@nycbambi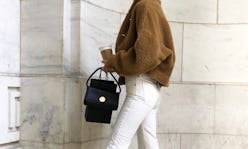 So often the simplest outfits have the biggest reward. Yes, it's fun to pile on your latest fashion-y purchases and embrace bold-as-can-be trends with gusto. But practically speaking, it's a lot easier to get out the door when easy-to-wear pieces are plentifully at your fingertips. Not only does everything go together, but there's something timeless that comes with throwing together wardrobe staples like button-down shirts, great jeans, and neutral knits. The key is figuring out how to dress up casual clothes by cherry-picking simple sartorial additions.
Initially it may seem boring to reach for the same simple pieces week after week, but all it takes is a little inspiration from fashion influencers to see that the formula of great basics plus one dress-up piece can equal major success. The women of Instagram are pro when it comes to picking out extra-special pieces that pop against the simplest of ensembles, and they're eager to share how they've honed in on the formula to transform an entire outfit with the right addition, accessory or otherwise. So, what are those items they're relying on to dress up their basics at the moment? Read on for their fashion-savvy tips and shop the edit of pieces they're coveting this season.
Christie Tyler
"I've been obsessed with mini bags lately, specifically the Little Liffner baguette bag. I find that throwing on an accessory like a tiny bag or a pearl hair accessory can make any casual outfit look chic and sophisticated."
Kristen Grace Lam
"Most of my outfits are pretty simple but they always feel put together when I throw on a pair of statement earrings. Usually they're big gold hoops but sometimes I jazz it up with a colorful hoop or crystal drop earrings. I'm also all for a pop of color and neon is my thing for 2019."
Olivia Lopez
"Lately, I've been styling beige on beige ensembles with more elevated accessories like statement sunnies by Old Céline or my trusty Simone Rocha pearl barrette. The iridescence of styling beige with pearl or gold accessories adds an element of shine to an otherwise monochromatic outfit."
Taylr Anne
"Living near the beach, I'd say the majority of my looks are naturally laid-back and casual. I feel like whenever I wear a cool pair of boots with vintage jeans and a white tee, it instantly makes my outfit have style. A classic pair of sunnies and good hoops are always chic additions."
Kelly Augustine
"I always rely on a red lip, fun earrings, or cool glasses—I love Firmoo for prescription glasses because they're super cheap and have a great assortment."
Sylvia Haghjoo
"This Chanel handbag gives any effortless look that special something — the texture looks great with neutral colors. And as often I don't really find time to plan my outfits ahead, I just go for something super discreet. A simple outfit does not necessarily equal a boring look. In fact, it can often have the exact opposite effect in the eye of the beholder. I always prefer simple colors and streamlined shapes."
Oliwia Pakosz
"For me, it's always all about a jacket. Focus on details — an oversize jacket can easily go with everything from ultra-chic dresses to cozy sweatpants. Always keep your eyes on things which underline your own personality."
Jeanne Grey
"Formulating outfits should be fun, simple, and should come at ease. Most of the time my personal decisions are made based out of comfort because when I'm comfortable, I'm confident! A pair of white shoes is my go-to addition to almost all outfit equations. It can be white Nike Air Force sneakers paired with a dress, white mules with a muted peach outfit, or white booties to balance a darker look. They completely brighten up the mood and can heighten any look."
Alyssa Coscarelli
"I'm definitely an accessories person, but while I might typically have reached for earrings before, lately my ultimate outfit-finisher is a fun hair clip or barrette. I love the resurgence of throwback hair accessories lately; they're bringing me back to my middle school days in the best possible way and they make even the simplest of easy outfits look that much more fun and trend-forward."
Madelynn Furlong
"Recently, I have been wearing my Chloé Roy bag non-stop. It's the perfect handbag to elevate any casual look like my winter formula: jeans, an oversized sweater, boots, and the Roy."