How To Nail Monochromatic Dressing Like A Fashion Pro
Caroline de Maigret. Photo: Dvora/Shutterstock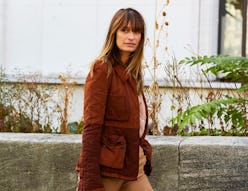 There are certain outfits that look effortless, but end up being trickier than expected in practice. Monochromatic outfits fall into this category: While achingly chic, a tone-on-tone outfit takes a little (okay, a lot of) styling know-how to orchestrate. How do you coordinate similar colors? Do fabrics have to match? Can you incorporate prints? What about the accessories — do those have to match, too? But just because it's a look that takes a bit of extra thought, doesn't mean it's not worth trying. (And the good news is that there are no hard-and-fast rules, because fashion.) With the arrival of cool fall weather and winter chill on approach, there's no better time to decode the tonal trend.
Monochromatic outfits were ubiquitous amid the Fall/Winter 2018 designer collections, coming in vibrant colors and neutral tones alike. "Variations of tonal dressing have been present on the runway over the past few seasons," says Elizabeth von der Goltz, global buying director at Net-A-Porter. "Gabriela Hearst, Tibi, Chloé, Joseph, and Nanushka have demonstrated this particularly well in recent seasons. The trend felt especially luxurious and sophisticated at The Row's Fall/Winter 2018 show where the brand showcased a procession of tonal dressing in a classic palette of neutrals."
Yes, a royal blue coat, satin dress, and sleek boots á la Gabriela Hearst or chocolatey brown blouse-and-trouser combo like Chloé's '70s-inspired runway sounds easy enough, but it takes more than a synchronized color palette to become a master-level monochrome dresser.
"It's all about mixing textures and variations of a color to make it less uniform — think warm, soft cashmere in caramel shades, back with deep chocolate leather, and pops of rust in silk shirting," says Lisa Ruffle, a buyer at Moda Operandi. This includes prints, especially of the animal variety such as snake or leopard, which can read neutral. For added interest, Ruffle says to break up top-to-toe color with accessories for a more elevated effect.
Another way to inject more personality into a tonal look is with layers. "I like to style (almost) head-to-toe looks in neutral tones like camel, taupe, or navy, and I'll add an unexpected pop of color through a layered turtleneck, a fun shoe, or bag," von der Goltz shares. If multiple colors feels tricky, go for an accessory in optic white or black for a sleek and eye-catching contrast.
For those unabashed by color, leaning into the monochrome trend with a seasonal jewel tone like burgundy or an unexpected pastel shade like mint top-to-toe is refreshingly bold, though, the Net-A-Porter buying director recommends offsetting a vivid color with hues in the same color family. "Be careful when choosing a bright color. If you are going, for say, orange, choose a sienna or rust shade and pair it back with neutral accessories. If it's a full head-to-toe bright color, pair it down with a graphic, black and white piece."
A mix of fabrics is a great way to piece together a tonal outfit from cashmere to silk and wool, but von der Goltz recommends proceeding with caution. "I would stay away from texture unless it's corduroy, velvet, or patent, which accentuates the color," the Net-A-Porter global buying director advises.
To master monochrome dressing this season, shop the edit of coordinating looks ahead. With Ruffle and von der Goltz's pro tips, you'll be appear effortlessly coordinated with minimal effort, to boot.