Milk Makeup's Lip Color Just Got A Major Update & You're Going To Be So Happy
COURTESY OF MILK MAKEUP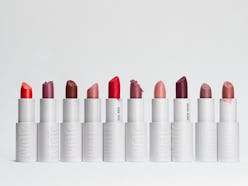 Finding a new go-to lipstick can be a challenge; the wide array of options available alone inevitably leads to hours of comparing colors and brands. And when you factor in the effects that dry winter air has on your lips? The difficulty level increases even more. Milk Makeup's new Lip Color seeks to address those problems, though, with a relaunch of the product that includes a creamier formula along with more exciting new updates that'll make it easier to keep your lips hydrated and colorful no matter the weather.
On Feb. 12, the beauty brand launched its updated Lip Color and added three new shades into the mix to join the original family of seven demi-matte lipsticks, each $24. What can you expect from the update? More creaminess and pigmentation, thanks to ingredients like bamboo-derived blurring powder in the Lip Color's formula. The result? Full coverage and super-smooth lips with just one swipe.
Hydrated lips equal happy lips, and these shades include a combination of shea butter, coconut oil, and grape seed oil to provide you with a moisturized, flake-free pout. And don't worry about twisting through your new tubes too quickly: These lipsticks promise all-day wear, so you can now rejoice at the thought of not having to reapply several times throughout the day.
As for the new hues? The fresh additions are a trio of pretty shades that include a warm rosy nude named Deuces, and a warm peachy nude dubbed Skillz, and Hype, a cool, smoky mauve. And of course, if you love Milk Makeup's perfect red or the deep wine shade, don't worry — they're still available along with the rest of the original colors, just in the new updated form.
Milk Makeup didn't stop at the formula, either — the relaunch comes with all new packaging, too. The lipsticks' tubes now feature a larger teardrop bullet that'll assist in effortless application of the lip colors, and a sleeker look with a metal over shell and a magnetic closure.
The lipsticks are now available for purchase online at Milk Makeup and Sephora, and come March 8 they'll be in Sephora stores, too. Continue on to start shopping the new hues, as well as a few O.G. colors you should add to your makeup bag ASAP.