9 Met Gala Shoes Our Editors Are Completely Obsessed With
Lexie Moreland/WWD/Shutterstock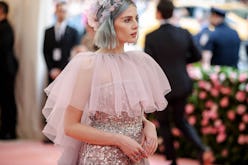 For anyone with a love for the fashion industry — as well as those who love a good red carpet — the first Monday in May is always a night to remember, and this year was certainly no exception. Combine that with this year's theme of camp — or in other words, kitsch — and you have looks that range from avant garde outfits like Lupita Nyong'o's rainbow tulle gown to more understated ensembles such as the Olsen Twin's black leather gowns. And while you might have feasted your eyes on the dresses, suits, and of course, Lady Gaga's multiple wardrobe changes on the pink carpet, choosing the best shoes at the 2019 Met Gala might be a more difficult task. Luckily, The Zoe Report editors chose their favorites so you don't have to.
Without a doubt, Lucy Boynton's custom Prada gown is nearly impossible to forget. However, what truly made the outfit were her sparkling shoes peeking out from underneath, putting the finishing touch on the look. And of course, you can't deny that Lily Collin's black platform shoes proved to be incredibly versatile when styled with her white ruffled dress.
Ahead, The Zoe Report editors highlight the chicest shoes to walk up the steps of the Met this year. Scroll down to see them all below.
Lily Collins
"Lily Collins' shoes may not have been the most exciting of the night, but I love them regardless. They were just over-the-top enough to fit into theme, but still felt incredibly chic." — Anna Buckman, Shopping News Editor
Ciara
"Ciara's entire look was jaw-dropping — from the emerald green feathered dress reminiscent of '70s Cher to her Diana Ross-like haircut — but it was her beaded shoes that really finished off the ensemble for me. I'm obsessed." — Dale Arden Chong, Shopping News Writer
Lucy Boynton
"Everything about Lucy Boynton's Met Gala look was on point, from her pastel-colored hair to her dreamy eye makeup. But ultimately, it was her crystal-embellished shoes that won my heart — they were bold but also so elegant and proved to be the perfect complement her sequin-adorned dress." — Eva Thomas, Celebrity Writer
Zendaya
"Rodger's & Hammerstein's Cinderella was my favorite movie as a child… so I was absolutely giddy when I saw Zendaya and Law Roach, her longtime stylist, pay homage to the rags-to-riches icon. Complete with the 'glass slipper' that they intentionally left on the pink-carpeted stairs. It's what fairy tales are made of!" — Khalea Underwood, Beauty Editor
Lady Gaga
"When Lady Gaga wears sky-high, jaw-dropping platform boots, everything is right in my world." — Madge Maril, Shopping News Writer
Serena Williams
"Being both a fashion designer and professional athlete, Serena Williams is a key player in two very different games. Wearing neon Nikes with a high-fashion Versace gown combined her two worlds in the 'campiest' way." — Olivia Young, Celebrity Writer
Jennifer Lopez
"Leave it to J. Lo to show up to the red carpet in one of the most dramatic looks of the evening (she is a seasoned Met Gala pro, after all). Her iridescent heels were the ultimate finishing touch to her glitzy, campy ensemble." — Ruby Buddemeyer, Associate Celebrity Editor
Joan Smalls
"I loved Joan Smalls' Met Gala look overall! While she certainly wasn't the most on-theme, her black cutout Prabal Gurung gown paired well with her calf-high cage sandals by René Caovilla. They'd look great off the pink carpet, too." — Lauren Caruso, Managing Editor
Alexa Chung
"I love the PVC trend right now and this feels so fresh and wearable for everyday!" — Angela Melero, Senior West Coast Editor