The Biggest Fashion Trend Of The Year Also Works Wonders On Your Home
Photographee.eu/Shutterstock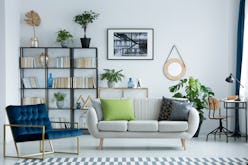 Regardless of whether you fall on the minimalist or maximalist side of the interior decor spectrum, you've got to admit that color is a major factor in creating your ultimate home aesthetic. What's more: Color can be a means of expressing a mood or a way to play with the latest design trends — even for those who typically stick to a classic style. And now that lime green home decor is gaining momentum (thanks to the neon fashion trend pulled straight from the runway), the shade is a perfect one to experiment with in your home for the ultimate wow factor.
Just like the super saturated, Pantone-approved colors Aspen Gold and Living Coral, vivid lime green shades can be used in your home both for itty bitty accents or dramatic statement pieces — depending both on how bold you feel and what your current decor looks like. Either way, if you're interesting in giving it a whirl — but aren't sure where to start — you can look to tips from interior experts to find out where and how to inject a little lime into your life.
Despite the fact that Los Angeles interior designers Katherine Waronker and Debra Chow of Studiono have a penchant for an earthy-meets-modern aesthetic, they're fully behind a powerful punch by way of a color like lime green. "Using a color such as lime green can provide a sense of fun," says Waronker. "It is energetic and youthful, yet organic." And according to them, it's also a lot more versatile than you might think. "Lime green can play well with others," she explains. "In mid-century homes, it pairs well with wood and stone. Using a color like lime can be seen as an almost natural element."
While the two are proponents of trying out such a color, regardless of the current palette in your home, they also acknowledge that vivid shades can feel pretty inaccessible for anyone who happens to be a bit color-phobic. "As designers, it can be challenging to convince clients to step beyond their comfort zone," adds Chow. "When we want to inject color into an otherwise neutral palette, it is always best suggested in the form of art, a rug or contained paint job." So if you want to start small, think accessories like ceramic vases or prints — something that mixes well into your existing decor.
And if you want to play with a paint color, try applying it to just one accent wall, or use it in a smaller room, like a powder room, as the designers recommend. Paint can also be utilized in this case to freshen up existing pieces, and it's also a totally affordable way to give trendy colors a try. "Repurpose furniture using quality paint," suggests Waronker. "A fresh coat of paint to a bed frame or chair can do wonders without breaking the bank."
If going bold is within your comfort zone, don't be afraid to shop for lime green pieces that will take up more surface area. "Try a lime green textile or [...] a sofa," encourages Chow. "Make a statement!" And as for where to shop for colorful finds, the designers note that both big and small budgets have great options. "We love Nickey Kehoe," says Waronker. "They always utilize color in a creative and sophisticated way." But when affordability is a concern, she mentions that vintage is a great go-to. "The prices allow room for you to put a spin on pieces without a huge investment," she explains.
Ready to start shopping? Ahead, find a couple stylish lime finds for your home — ranging from accents that pop to furniture pieces that wow — that will help you put Waronker and Chow's advice to good use and, in turn, create a more vibrant and refreshed vibe in any room.