4 Outfits That Prove Slime Green Is The Trend To Try Right Now
Silvia Olsen/Shutterstock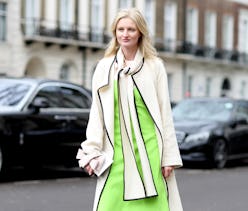 If the last few seasons were any indication, the recent surge of electric hues that have dominated the street style scene aren't slowing down. Designers and fashion influencers alike have been unmistakably fixated on vibrant colors with curious names like millennial pink, Gen Z yellow, and DayGlo orange. But, of late the one color that's popping up everywhere is being lovingly referred to as slime green. Navigating how to wear this neon green hue may feel like a lost cause to some, but don't despair — it really does work for everyone.
In the years before the neon-tinged color rush, when Phoebe Philo's sleek minimalism dominated, trendsetters might have scoffed at wearing such a brazen color. But this season, wearing slime green is the name of the game as fashion plates like Reese Blutstein and Tiffany Hsu have helped to usher slime green boots, statement coats, and feminine tops into the sartorial mainstream. While the blinding shade may be jarring at first, don't let that deter you from taking a risk and incorporating a little electricity into your everyday lineup.
If you're looking to ease your way in on the slime green trend, start small by choosing one neon item that can be worn alongside simple neutrals like blue, black, grey, and brown. For those who don't shy away from in-your-face color, go all-out by wearing a maxi dress in the commanding color or a coordinated slime green top and skirt. Below, find four distinct approaches to pulling off this electrifying color — ranging from subtle hints of green to full-on color — along with key styling tips to help you integrate slime green into your current wardrobe in a variety of ways.
Slime Green Top + Coordinating Skirt + Embellished Mules
If you're not easily intimidated by electric hues, now is the time to take a sartorial risk by experimenting with a monochromatic slime green look. Styling a silky top with a coordinating skirt in the same neon hue is one way of leaning fully into the colorful trend. To keep the look feeling polished, add a pair of embellished mules and a croc-effect handbag.
Neon Streaked Coat + Fluorescent Yellow Top + Slime Green Boots
For a true maximalist take on how to wear electric green, here's a traffic-stopping style to try: Mix your DayGlo hues together. This season, allow room for exploring different color pairings like fluorescent yellow and slime green. A yellow streaked coat worn with a coordinating top and grounded with vivid green boots is an outfit that will command attention the moment you step outside.
Bright Green Top + Leather Pants + Combat Boots
To ease into neon, balance a slime green turtleneck with sleek black separates like a leather moto jacket and a pair of sleek leather or silk pants. Finish the look with combat boots and a studded embellished bag for an edgier take, or try black pumps and a top-handle bag for something more classic.
Striped Shirt + Deep Green Blazer + Slime Green Accessories
For those in need of a pared-down take on the slime green trend, try dressing in a color story. Try your hand at mixing varying shades of green and blue together. To carry the theme home, opt for electric accessories like a pair of green patent-leather pumps and a beaded polka-dot pouch in the same neon hue.