The Home Decor Color That's Going To Dominate This Spring
New Africa/Shutterstock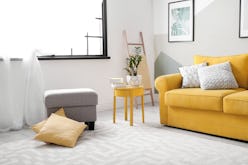 There are many ways to embrace a new color trend, and many levels of commitment when doing so, from adding an accessory to your ensemble to covering your bedroom walls in a fresh coat of the shade. And when it comes to color trends, there's no greater expert than Pantone, who designers, artists, and trendsetters look to to learn what hue is going to be the next big thing. The company has predicted that Aspen Gold will be having a major moment this spring, and if you're tempted to try it out in your home, there's a ton of stylish yellow home decor pieces that just might be your gateway.
Sure, Pantone has deemed Living Coral the official color of 2019, but it's also noticed a handful of other shades that you'll be seeing everywhere, from the runways to the aisles of your favorite home goods store. It seems the jury's out and the vibrant, saturated Aspen Gold is one to watch this spring. The company, who regularly lists seasonal colors on its site, describes the hue as "brightening our day" and "[stimulating] feelings of joy and good cheer." Sounds like something anyone could use to start the new year off right.
Regardless of whether you want to dabble with the color by way of a little decorative accent or try out the wallpaper trend with it, there are so many pieces of furniture and accessories in the shade to shop for your new-and-improved living space now — many of which are discounted thanks to stellar end-of-year sales. Ahead find 10 Aspen Gold items below that will help you bring spring to your space a little early.
At just $15, this stoneware vase is an accessible and affordable way to try out the color trend, and it's a great piece to break up an otherwise neutral space.
Use wallpaper to create an interesting accent wall in your living room, and if you don't want to overdo it on the yellow, this dainty pattern offers just the right amount of the color to try.
If plant babies are an integral part of your living room decor, try swapping out one of your planters with this tripod one, which nails the spring color trend.
Another non-committal way to give Aspen Gold a whirl is with a throw pillow or blanket. This oversized one from Target will bring a jolt of color and some welcome coziness to your chair or couch in an instant.
Tapestries are an easy way to dress up your walls, and this golden mandala print would bring a sunny feeling into any room of the house.
For a subtle approach to trying out yellow in your living room, consider an art print. This one from Minted swirls in shades of beige and blush, so it's easy to mix into a more neutral color scheme.
Make a bigger, bolder statement with yellow with a piece of furniture, like this velvet armchair. You can make it mix into your current color scheme with the addition of a throw pillow to help bring everything together.
A floor pillow, pouf, or ottoman adds extra seating when you're entertaining, and finding one in this spring's hottest shade is even better.
Go big or go home with a golden yellow sofa. If you're a bit skeptical of adding a ton of color to your space, keep the other major pieces in the room in neutral tones. The sofa will pop in all the right ways.
A colorful rug is a perfect way to weave any color into a room. This shag version from West Elm mixes in beige and grey, so it's a lot more versatile than you might expect.