Tom Ford Beauty's New Lipstick Is Proof Your Makeup Routine Could Use Some Glitter
Tom Ford Beauty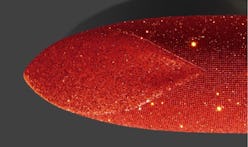 While demure daily beauty looks certainly have their place, there's something to be said for taking things up a notch every so often. Whether for a special event (wedding season is fast approaching, people), or on a typical Saturday night when you could use some extra sparkle, there's no more impactful beauty product than glitter. The shimmery substance is quickly becoming a go-to on beauty shelves everywhere — and if you're ready to give it a go, look no further than Tom Ford Beauty's Extreme Lip Spark. Glitter has never been more glamorous.
When you think of luxury label Tom Ford Beauty, bold, bombshell looks likely come to mind. It should come as no surprise, then, that the brand's latest launch follows suit with that theme, serving up something seriously statement-making (and sure to sell out) for your pout. Tom Ford Beauty's totally on-trend Lip Spark high-intensity glitter lipsticks have officially landed, and they're probably just the thing that'll convince you to add some sparkle to your beauty shelf.
The brand's new ultra-sparkly lipstick, $55, comes in five glamorous shades that combine a smooth metallic-sheen formula with incredibly shimmery sequin-like sparkle pigments. The result is lips that look like they've been completely saturated in a rich shock of color and then coated in loose glitter (without all the mess, thank goodness). It's a foolproof, not to mention luxurious, way of fitting the sparkling substance into your routine.
The playful color offerings include two gilded glittery nudes, golden Surge and coppery Thrust, which are ideal for the warm nights that lie ahead. Slick a single coat of either color onto lips (thanks to the high-impact pigment that's all you need) to turn up the heat on breezy seasonal separates — the warm, super-shimmery hues will enhance your summer glow.
If you love a boldly colored lip, take it to the next level by opting for one of the explosively sparkly red or pink shades included in the collection. Stunner is a true-red that shimmers like Dorothy's famous ruby slippers, while Clash offers up a orange-tinged red that's proving to be hot this season. And because hot pink is definitely having a beauty moment, Tom Ford's electric pink Powertrip shade is a must-try. Wear it with a leg-baring dress for a night of dancing with your girlfriends.
Ready to take the uber-sparkly trend for a spin? Keep scrolling to shop all five shades of Tom Ford Beauty's brand-new glitter lipstick, below.