Tom Ford Beauty Released A *Very* Luxurious Nail Polish & It's Seriously Stunning
Julio Cortez/AP/Shutterstock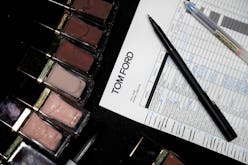 Tom Ford Beauty has always had the Midas touch. For many people in the beauty community, the designer's luxurious makeup, fragrance, and nail lacquer lines are it; time after time the brand's products win fans and fetch 5-star ratings across the internet. And now, Tom Ford Beauty's Soleil collection will let you harness the brand's golden touch — well, sort of. Along with other glossy, golden products, the new Summer 2019 collection features a nail polish brimming with tiny, shimmering 24k gold leaves.
Why? Because it's Tom Ford Beauty, and you shouldn't expect anything less than luxe. Tom Ford Beauty's Soleil nail lacquer retails for $37, and promises a radiant, streak-free finish. The polish itself is completely clear, and acts as a base for the suspended gold leaves, allowing you to use it as a top coat or by itself. The gold leaf flakes themselves are small, too; they're similar in size to the glitter used in regular, non-24k nail polish.
Wondering why smaller may be better when it comes to the 24k polish? Breaking up the gold leaf into tiny pieces and mixing it throughout the formula makes the polish subtler on the nail than it is in the bottle. You can build it up, or just apply one coat; it's perfect for anyone who fell in love with the gold leaf nail trend but likes a more subdued and natural look (that's still just as shiny).
Not to be outdone, the Soleil Lip Blush also is infused with the real 24k gold flakes. While it appears clear in its bullet form — showing off the pretty gold leaves — the $55 lipstick turns into a pink stain as soon as you apply it to your lips. Besides the lightweight color, the lipstick also acts a balm; the very first ingredient is hydrogenated polyisobutene, a synthetic emollient that prevents your skin from losing moisture.
Tom Ford Beauty wouldn't let you just have glossy lips and nails and not finish the rest of your look, too. Besides the highly-Instagrammable 24k gold products, the brand's Summer 2019 collection also includes foundations, cheek powders, eyeshadows, and more. To browse the entire new Soleil collection, visit Tom Ford Beauty's website. But, if you only have your eye on the gold, keep scrolling down — both new, 24k gold-flaked Tom Ford Beauty products are below.