9 Eco-Friendly Glitter Beauty Products That Are Perfect For Festival Season
Imaxtree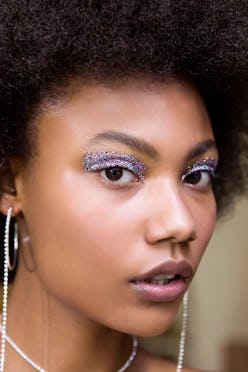 What do flower crowns, crochet bikini tops, and copious amounts of glitter have in common? They're practically synonymous with festival season. But one of these things is not like the others: Glitter isn't a harmless style statement. "The issue with glitter beauty products is that it is a microplastic, and just like any microplastic, glitter is extremely dangerous for the environment," Susan Stevens, the CEO and founder of Made With Respect, tells The Zoe Report. But that doesn't mean you have to give up the glitz — eco-friendly glitter products for festival season are here, and they're just as pretty as their plastic counterparts.
As you may or may not know, microplastics like glitter can do some serious damage to the earth. "They pass through water treatment system filters and end up directly in our waterways, polluting rivers, lakes, and oceans," Small explains. From there, glitter gets consumed by marine life — which is how it eventually ends up in the human food chain. "Microplastics have also been found in the air we breathe," the founder adds. And while Coachella may seem like perfect place to pile on the sparkly eyeshadow or face paint, it actually couldn't be worse: Since glitter isn't biodegradable, when it ends up in the soil (for example, after falling off your face and onto festival grounds), it never fully breaks down and leaks pollutants into the environment, ad infinitum.
Luckily, eco-minded makeup entrepreneurs have made it their mission to bring guilt-free glitter to festival season. "Our company was born out of our involvement in New York underground fashion and art communities, where there is a strong ethos of sartorial freedom and extravagant expression," Rebecca Richards, the co-founder of BioGlitz, tells TZR. "However, our passion for sustainable fashion began to contradict our love of glitter, a toxic microplastic." The solution? An environmentally-conscious alternative made from "regenerated eucalyptus cellulose."
"Cellulose is an important structural component of plant cell walls," Kelly Dobos, a cosmetic chemist with Sun Chemicals, tells The Zoe Report. "It's what gives plants strength and rigidity." In addition to being sparkly, cellulose can be cut into fun, glitter-esque shapes, which it's why it's such a popular choice with the eco-friendly industry. "Cellulose glitters are biodegradable, which means microbes will break it down over time," Dobos adds.
There's one major beauty benefit to cellulose, too: It won't irritate your skin. "Compared to traditional polyethylene terephthalate plastic glitter, Universal Soul's cellulose film, derived from sustainably forested eucalyptus trees, is softer on your skin," Raja Sun, the creator of Universal Soul, tells TZR; a point that Dobos confirms. "Plastic glitters can feel rough on the skin because of the sharp edges," the cosmetic chemist says. "They also tend to contain aluminum and should never be used on the lips, as aluminum is not approved for the lip area, according to FDA colorant regulations."
Another alternative? Skip the glitter altogether. "I look at shimmer as 'light reflecting,'" Neil Scibelli, a celebrity makeup artist who works with Elle Macpherson, tells The Zoe Report. "It doesn't necessarily have to mean actual chunks of glitter." He says that subtle shine is the perfect way to upgrade your usual festival-going glam, "without looking juvenile."
Some of his go-to techniques for a grown-up glow include mixing face oil in with foundation, applying shimmering eyeshadows, and opting for cream highlighters over powders. "Many cream highlighters use finely milled crushed pearls or minerals that give off this sheen," he says. "When the light hits the product, it gives off a 'shimmery' effect without containing actual chunks of glitter."
Ahead, nine eco-friendly ways to ditch the glitter — and still glow hard on the festival grounds.
Shop Eco-Friendly Glitter