Kaja Just Launched A New Eyeshadow That'll Convince You To Add Some Shimmer To Your Look, Stat
Sephora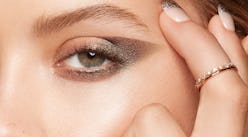 Hello, April. For most, this month means the start of spring and warmer weather (hopefully). But for certain people, April only means one thing: festival season. And while there are a lot of glittery, rainbow-colored makeup products launched as Coachella looms closer, some are worthy of your attention — even if you'd rather stay home than dance in the desert. The latest? Kaja's Moon Crystal Sparkling Eye Pigment. The shimmery eyeshadow was released at Sephora on April 2 — just in time to win a place in festival-goer's fanny packs — and contains actual crystal powder.
Because who wouldn't want to wear diamonds on their eyelids, too? Like its name implies, the Moon Crystal eye pigment is pigmented; the product comes in eight neutral and jewel-toned shades. And although it only retails for $16 a tube (this isn't your regular powder eyeshadow), the formula holds a glittery secret — a subtly radiant sparkle thanks to topaz, diamond, and sapphire powders mixed into the formula.
Judging from the pictures, the finish isn't over the top, either. Each shadow uses Kaja's "Sparkle Effect Technology", i.e. a combo of crystal powder and metallic-coated glitter. Anyone who loves color will be able to mix and match the shimmery jewel tones, while more subdued shoppers will still be able to use shades like "Goddess", "Luminary", or "Tiger's Eye".
You will need to get used to the jelly eyeshadow application, which is a tad different than powder formulas. (This is the same Kaja that gifted the world the roll-on highlighter, Roller Glow — you can expect the unexpected with this brand.) According to the product page, there are no eyeshadow brushes involved: Simply tap the jelly product onto your lid with a fingertip, then blend it out wherever you'd like.
You may notice another new product from the brand while shopping the shadows. Kaja's Dream Puff Radiant Mousse Primer, a creamy yet lightweight makeup primer, also dropped April 2. Like the eye pigment and Roller Glow, the primer is unique: The $26 product is a cloud-like mousse, and contains the hydrating ingredients hyaluronic acid and marshmallow root extract; it also has a bonus shimmery, golden finish, to make sure your crystal-covered eyelids don't totally steal the show.
Ahead, both new Kaja products, available on Sephora's website (and in-store April 19).