The Throwback Makeup Look That's Being Requested On The Regular, According To A Celebrity Makeup Artist
Paul Massey/Shutterstock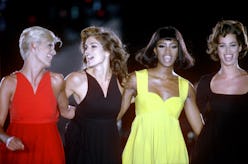 Spring makeup trends are taking a very vibrant turn these days. Bright coral lips, neon eyeliner, shimmery lids — all are fair game and being embraced ad nauseam. However, there's also a very prominent throwback wave washing ashore that's a bit more demure. In addition to the scrunchies and jeweled barrettes seen everywhere, the '90s are hitting makeup in a very real way — just ask any major makeup artist. In fact, one major beauty guru can attest to the fact that a quintessential '90s makeup look is in high demand with all of her A-list clients right now.
Amidst the bold looks popping up, celebrity MUA Nikki DeRoest (whose client list includes Bella Hadid, Rosie Huntington-Whitely, Shanina Shaik, and Emma Roberts), says a more subtle yet stunning look is being requested at the moment, and it was last seen on the faces of some icons you may know. "I think, for me, I'm always gonna be more of a classic makeup artist and the people that I work with also prefer those types of looks," DeRoest tells The Zoe Report during a sit-down at the 5th-annual ZOEasis event in Palm Springs, CA. "As far as trends go, I love that we're going back into the '90s looks — that sort of '90s supermodel. That's what I'm asked to do right now for the carpet — the brownish-nude lip, the eyeshadow blending up to the brow, skin is much more real and natural [looking]." Yes, it seems everyone is looking to channel their inner Naomi, Cindy, and Linda these days, and DeRoest is here for it.
In fact, in regards to a more bare-bones complexion, the makeup pro says she'll always opt for a lighter hand, albeit the somewhat dramatic coverage trends going viral on social media. "I will never do a baking technique with the skin," says DeRoest. "I feel it erases anything that's real or raw about somebody. You can still sculpt and do things but in a much more natural way, but I actually think too flawless is not the best way to go."
DeRoest's latest beauty venture, makeup line Róen Beauty, is based on just such a principle. "I made it for me and my friends and all the women who inspire me," she says. "It's about the realistic way that we do makeup, with a lot of ease and not overthinking it." (In fact, DeRoest developed a unique shadow formula that's a cross between a cream and a powder and swipes on easily by hand for easy on-the-go application.)
Now, that's not to disparage or shut down a bold spring makeup look. If that delights and excites you, have at it. That said, DeRoest suggests, when dabbling in neon and rich hues, to perhaps make it more of a balancing act. "If you explore a trend, you should try one part of it and everything else can be be really played down and simple," she says. "But, it really is about what makes you feel good and confident. Everyone should celebrate what makes them feel the best leaving the house."
Indeed. If the '90s catwalk look is bringing you joy right now, take a page from some of the greats and invest in a soft brown lipstick and/or buffed out shadow. In addition to throwback inspiration, you'll find some worthy product options below to make your '90s runway dreams come true.