Milk Makeup's Wu-Tang Clan Lipsticks Look So Good On Dark Skin
Milk Makeup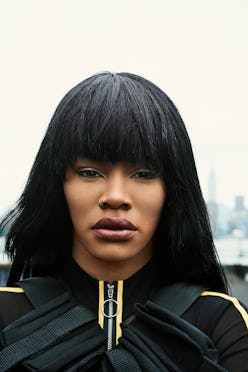 A girl goes through a lot to find the perfect nude lipstick. I've swatched on my forearms and hands, have mixed and matched four shades just to get one, and have even tried matching my lipstick to my nipple color to find The One thanks to an ill-fated magazine tip from 2007. And because of cool brands like Mented Cosmetics and Fenty, I don't have to do that much altering — or, uhh, flashing — for a match. Nudes? I'm good. Browns? Not so much. To clarify: There is a difference between nude and brown lipsticks for Black women. In fact, the best brown lipstick for dark skin doesn't necessarily have to be a pure, true brown... although it does look pretty.
No, the best browns have dimension — much like dark skin — and often boast gold, purple, or pink undertones. They don't blend in with your skin, but manage to enhance it, and give you the type of something-something that makes people know you tried, but not too hard.
To be honest, I thought that the Milk Makeup and Wu-Tang collaboration would be on louder side (in a good way, of course). I mean, have you seen it? Each lipstick in eight-piece collection is inspired by the elements and wrapped with a gold dragon, an obvious nod to Wu-Tang's "fascination with Shaolin Kung Fu culture," according to a release from the brand, and is meant to "inspire the wisdom, beauty, and strength of today's modern warriors." That's a lot for a lipstick.
Don't get me wrong: There are definitely some in-your-face shades, like Fire (an orange-red) and Frequency (a purple glitter, inspired by water). But the one that makes me tap into my "inner warrior goddess" is Cypher, the sheer brown inspired by mountain. Since it's high-shine, I don't have to stress out about applying it perfectly... and the sacred lotus water, cherry blossom, and ginseng in the formula helps it go on like a balm, rather than an uncomfortable matte. And in terms of the shade, Cypher is billed as a true brown — but I definitely pick up on some rosy undertones. The hint of dark pink helps with color-correcting my two-toned lips... and just so happens to look good with my pink Glossier Cloud Paint, too.
After trying out the lipstick on InstaStory, my DMs were flooded with compliments and questions about where to find this exquisite brown shade. And I'll tell you guys the same thing I told my friends — act fast, because this is a limited-edition collection. But, in case it does sell out... actually, scratch that. When it sells out, there are still plenty of brown lipsticks out there to try. See some of my favorites ahead.