This Year's ZOEasis Event Had The Most Instagrammable Moments Of The Weekend
Photo by Michael Kovac/Getty Images for The Zoe Report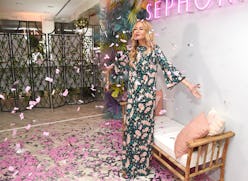 Like clockwork, every year, millions flock to the Palm Springs desert to indulge in the extravaganza that is the Coachella Music Festival. And for the past five years, also like clockwork, The Zoe Report kicks off the party with a chic desert soirée: ZOEasis. The annual event has steadily built a name for itself as an aesthetically pleasing feast for the eyes — in more ways the one. This year's ZOEasis, for example, pulled out all the stops, transporting guests to the French Riviera via picturesque backdrops, refreshing and decadent cocktails, and — of course — all the charcuterie and French pastries one could indulge in.
Yes, the annual bash featured all the perks and amenities of a St. Tropez getaway, sans pricey airfare and accommodations. Bottomless frosé, luxe lounging, and even faux-tanning (for those wanting that vacay glow) were at attendees' fingertips, placing them in the lap of desert luxury. The chic party perks were not lost on guests, who took full advantage of their surroundings, and lived like the French (and tourists) do.
Amidst the mingling, sipping, and endless photo-ops, came a few priceless moments that must be documented and discussed. From TZR founder Rachel Zoe's sweet photo op to Kiernan Shipka's crafting moment, here's a quick play by play of all the goings on at this year's ZOEasis extravaganza.
Rachel Zoe Styled To Perfection
The Zoe Report's founder and editor-at-large, Rachel Zoe (third from left), took the best photo-op with actors (from left) Alisha Boe, Kiernan Shipka, and Paris Berelc — who all also happened to be wearing ensembles from Zoe's collection.
Coco Breezy Brought The Tunes (& The Best Beauty Looks Of The Night)
DJ duo (and fierce fashion mavens), Coco and Breezy kept guests moving all night long via a solid mix of throwback and current tunes. Oh, and their neon eye looks were hands-down the coolest beauty moment of the night!
French-Themed Photo Ops Were Aplenty
In line with the Riviera theme were the strategic photo ops that met guests as soon as they entered the ZOEasis venue. From the charming wooden chateau-inspired front door to the stunning French flower market photo wall, Instagram was definitely ablaze with ZOEasis imagery.
Kiernan Shipka Got Crafty
Chilling Adventures of Sabrina star Kiernan Shipka put her craft hat on at the Rocketman station, creating bedazzled sunglasses Elton John would surely approve of.
Equally Instagrammable Refreshments
After the French-themed photo walls, the frosé drinks provided by Sunseeker Rosé were probably the second most-Instagrammed item on the ZOEasis menu.
On-Site Hairstyling Was In Full Effect ...
Beauty brands like IGK and Amika allowed for a little pampering by way of hair. Styling services like festival braids and undone waves were at the ready.
Supergoop Presented Its Latest Launch — And It Was GOOD
Sunscreen giant Supergoop displayed its brand-new collection of eye shadows infused with — that's right — SPF 30 to keep lids protected and colorful in one fell swoop.
Shopping Was Done
It wouldn't be a TZR party without some proper shopping options, which Zappos delivered on. The brand offered a taste of the créme de la créme of its festival style pieces available on site now.