4 Bella Hadid-Approved Makeup Looks For The '90s-Inspired Minimalist
Roy Rochlin/Getty Images Entertainment/Getty Images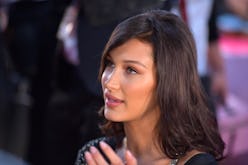 From tiny sunglasses to sweatsuits, there's no denying '90s-inspired trends are still very much having a moment, and not just in the realm of fashion. Bella Hadid's makeup routine is a prime example, and her looks serve as inspiration on how to infuse the iconic decade into your beauty vibe in 2019. The 22-year-old model keeps her makeup looks relatively low-key when she's not on set, and her Instagram is full of swoon-worthy examples to go off of. Utilizing a few hero products to accentuate her striking features, Hadid makes a case for the less-is-more approach to beauty, while channeling an era that has serious staying power. Read on for four nostalgic, Bella-approved trends to incorporate into your beauty routine ASAP.
Neutral Lip Liner
'90s beauty just wouldn't be the same without lip liner. Everyone from Drew Barrymore to Naomi Campbell rocked the kooky trend, and Hadid echos icons of the era over 20 years later. From dusty rose to cocoa brown, neutral lip color reigned supreme, and lipsticks ranging the colors of the skin-tone rainbow are still relevant today. Back in Oct., Hadid nailed the look with muted, over-lined lips and a smoky eye. She even opted for cornrows and voluminous waves, rounding it out with an added touch of nostalgia.
Shop The Look
Warm Bronzer
If bright pink blush was the pinnacle '80s beauty, smoky bronzer was its toned down, '90s counterpart. After all, the natural addition to a neutral lip is a warm, golden brown cheek — the more, the merrier when it comes to bronzer in the '90s. For this look, Hadid serves sun-kissed realness inspired by supermodels who came before her, namely '90s icon Cindy Crawford. Hadid hasn't forgotten the hair in this equation, either, opting for a half-updo with tight waves that border on crimps.
Shop The Look
Dewy Highlighter
Even though the highlighter trend hit a fever pitch in the 2010s, it's a necessary addition to a minimalistic '90s-inspired look. See how Hadid opted for a barely-there, smoked-out eye and warm, rich cheeks? The highlighter on the model's cheekbones accentuate her facial structure, and add more dimension to the earthy vibe, making it pop. Don't forget your favorite gold hoops!
Shop The Look
Jet Black Eyeliner
Sure, understated neutrals were huge in decades past, but the '90s also called for a grittier beauty vibe at times. Any grunge-inspired look isn't complete without a reliable black eyeliner, high in pigment and strong enough to stay all day. Add it to pewter or smoky grey eyeshadow, or keep it simple with just the liner, as seen on Hadid, who topped it off with a wispy updo.
Shop The Look