Experts Predict This Is The Fitness Trend You're Likely to Try In 2020
Joshua Resnick/Shutterstock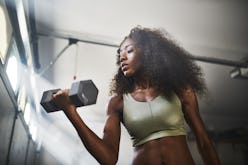 For many, a fresh start to the new year means working on yourself — both inside and out. Health will be reconsidered, meditation and/or therapy will be prioritized, and toxic relationships will be tossed out for good. But those are just a few of the ways some people try and become their best selves. Others give their workouts an overhaul as a means of feeling stronger, more confident, and full of energy — which is where some of the biggest 2020 fitness trends come into play.
Looking back on 2019, fitness enthusiasts were buzzing about biohacking and myofascial devices, and while it doesn't seem like those concepts are losing steam in the near future, research shows there are a few other trends to try for 2020 that could shake up your routine in a much needed way — whether it be to help you get more motivated, to fit into your busy schedule better, or to be kinder and gentler on your joints. For example, for its annual "Year In Sport" report, athletic app Strava recently looked to the trending practices of its users over the past year, and while some of these you may already be implementing, others might be totally new to you.
Ahead, find a few key highlights from Strava's research, as well as other things to potentially try for next-level workouts in the new year.
Lower Impact Workouts
You've heard of HIIT, but in 2020 it's all about HILIT, or high intensity low impact training. These are workouts that will still get your blood pumping and muscles seriously toned, but are geared to be more more gentle on joints, therefore less likely to cause an injury (one of the the biggest complaints about HIIT workouts). Sound like something you want to try? Stream a HILIT workout on platforms like p.volve or hit up studios like Rogwatta in New York, which offers rowing and strength training that's challenging without being too tough on your body.
Having A Partner
Strava users are meeting their fitness goals by enlisting the help of others, like a gym buddy, a group class, or a hiking/biking/running club. According to the report, you're more likely to stick with a routine and do more activities when you're not trying to do it alone. You can even enlist your significant other as a workout partner, which not only can be additional motivation, but perhaps even a chance for the two of you to bond more.
Year-Round Indoor Training
No surprise here: Digital platforms are more popular than ever. So what does that mean for your 2020 workout goals? Well, it may be even easier to stick with your resolutions since at home options are better than ever. Between On Demand services and equipment that can turn your home into a gym (the Mirror, stationary cycles), it's easier to prioritize fitness — sorry, bad weather is no longer a viable excuse.
Mixing It Up
Strava's data also shows a decline for single sport athletes. That means that even devotees of running or cycling are mixing it up by adding in different types of workouts as well. If you're a cardio-lover, consider integrating a yoga class here and there. Avid runners could balance their routine with a little weight-training, and so on.