Why This Workout Is The Best Way To Bond With Your Partner
Flamingo Images/Shutterstock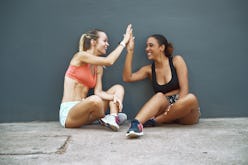 If one of your goals for the new year is getting closer to your partner, there's one part of your routine that you don't want to overlook, and that's fitness. It's understandable if hitting up your usual cycling class or doing an at-home yoga flow is something you'd prefer do apart from your mate, but if it does seem like an appealing option to bond over breaking a sweat and mutually enjoy the rush of endorphins, there are some workouts couples can do together that might deserve a try.
Before you immediately brush off the idea of working out with your romantic partner, perhaps first consider the ways it can help the two of you bond. With certain types of exercise, having a teammate can build trust and emotional intimacy since you'll be supporting and encouraging each other — plus it offers the two of you something in common. "Workouts done as a team can be truly uplifting and spark a sense of camaraderie and healthy competition amongst partners," shares Mandee Miller, a Los Angeles-based certified personal trainer who makes it a habit to work out with her husband. And Ashley Mills and Mark Mullett, co-founders of obé, agree. "We think that fitness is the ultimate bonding experience that also keeps each other accountable, on our toes, and always moving beyond our comfort zones."
If teaming up to get your sweat on feels like something the two of you might want to tackle in 2020, read on to learn more about six potential workout ideas that could bring you closer than ever.
HIIT Workouts
Miller and her mate love tag-teaming HIIT-inspired movements where each is assigned an exercise to hold while the other moves dynamically. "For example, Partner A holds a forearm plank while Partner B performs 12 pop squats and 'tags' Partner A out when they complete that set amount of repetitions," she explains.
Mills and Mullet prefer this type of workout, too, and obé even offers video-on-demand options to try together at home. "Our favorite partner exercises are core work — especially planks," the couple says. "You don't want to be the first one to drop down to your knees! Hey, a little healthy competition never hurt anybody."
Running/Walking
If one or both of you isn't much of a workout fanatic, start with a simple walk, suggests trainer and holistic nutrition coach Gianna Vassilakos. "Whether it's early morning or after work hours, going for walks as a couple is not only a great way to stay in shape and get your steps in, but it's also low enough intensity for the both of you to engage in meaningful conversation while enjoying the outdoors," she explains. "It's therapeutic, low impact on your body and a great way to release stress."
If you two can handle a bit more cardio, try running instead — whether it be around the neighborhood, on a track, or on a treadmill at the gym. Miller suggests no matter where you decide to do your running, aim to stay at the same pace. "Staying in step with someone else can help one to avoid giving up before the time is up on the interval as well as be one another's personal cheerleader by being fully invested and engaged at the same time," she says.
Tennis
Not only is tennis a great exercise for duos, but it's also a great way to include your couples friends, as Vassilakos explains. "Allow your competitive edge to come out together while the both of you work to beat the other couple," she says. "Not only is it a great full body workout, but it'll work on your communication skills as you'll have to talk to one another on the court."
Indoor Cycling
If indoor cycling is more your speed, you could try switching off with who's going uphill, while the other cheers on. "Partner A sprints with heavy resistance up a hill for 45 seconds while Partner B is on a flat road with light resistance cheering them on before it's their turn to burn it up that hill for 45 seconds," suggests Miller. That said, going at the same pace can have you working towards a common goal in unison.
Weightlifting
"Traditional weightlifting is also a great partner workout," Miller explains. "With a built-in spotter for heavy lifting, a partner is a fabulous asset to have in that gym setting. They work in their set while you get a recovery from the previous set performed." And Vassilakos adds that the intensity of lifting is especially conducive for the two of you to show your motivational side to each other, as you encourage your other to push through.
Acro Yoga
Any type of yoga class is great for bonding, especially since there's a built in practice to stay centered and de-stress, but if you're up for something a bit more hands-on to do together, acro yoga might be a fun option to try out. Because you're physically supporting each other in these partner poses, it requires good communication and trust. Practice some of these basic moves or sign up for a class at a studio near you.