The Workout Trend That's Giving SoulCycle A Run For Its Money
oneinchpunch/Shutterstock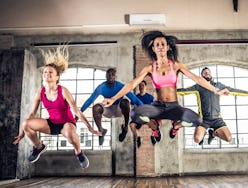 If you're adopting the "New Year, New Me" philosophy — or even just hoping to make some adjustments to your day-to-day — one thing to consider giving a little extra love to is your fitness routine. Forget trying to change your body to fit some kind of standard: Incorporating exercise into your life on a regular and consistent basis has so many benefits besides the superficial. And if you're looking to kick off the year with a renewed interest and energy towards working out, perhaps looking into the biggest 2019 fitness trends is a good place to start.
Creating resolutions about your workouts or wellness habits is popular for good reason. After all who doesn't want to feel like their best self inside and out? And few people know the benefits of getting in shape (your shape, not anyone else's) better than fitness expert Lacey Stone, who in addition to offering her own virtual training program, has been a featured trainer on Khloé Kardashian's Revenge Body and has a list of celebrity clients that includes Casey Wilson, Justin Chambers, Kiernan Shipka, and Mary Louise Parker.
Stone has witnessed firsthand how empowering adopting an exercise routine can be, from giving you a confidence boost to ramping up your energy levels. That said, she makes it her business to stay abreast of the latest and most useful tools and tricks. Ahead, learn the five trends she thinks are making a splash in 2019, plus why you might want to give them a whirl.
Digital Platforms
Digital technology has benefits beyond those fitness-focused products on the market. Many trainers — including Stone — are embracing on-demand and digital options for those who can't always make it to the gym. That said, not all digital platforms are created equally. "Let's face it, anyone can teach you how to exercise but consumers these days are looking for coaches who speak to their unique needs and sensibilities," the fitness guru explains. "The coach with a story, who hasn't always had the most perfect body or path. The trainer who understands their clients because they were their clients, and who can make them laugh and feel good about themselves along the way. That's why I created my virtual platform."
High Intensity Interval Training
High Intensity Interval Training, better known as HIIT, is a training method that alternates short bursts of intensive cardio-focused sets with periods of recovery. Though it's not exactly a new trend, you'll likely be seeing even more of it in the new year — and for good reason. "In 2019, HIIT is going to be even more lit than it already is," shares Stone. "High-intensity interval training is one of the most effective ways to trim down body fat while simultaneously gaining substantial muscle mass, changing both the size and shape of your body."
Mobility/Myofascial Devices
A truly effective workout routine doesn't stop with exercise. Mobility and myofascial devices (like foam rollers and massagers) have a ton of benefits, as Stone points out. "Recovery is queen," she explains. "The Theragun and Hypervolt have become wildly popular at-home tools for high-powered self massage to get all those post-exercise kinks out and to flush out lactic acid and reduce inflammation."
Biohacking For Women
As Stone notes, women have different biological needs than men in terms of training. Supplements like collagen, amino acids, and vitamins can help women take their fitness to the next level and they've become widely available. "Gone are the days where only men were targeted for these needs and in 2019, we can definitely expect to see more and more women focusing on training from the inside out as well as pursuing more biohacking methods such as cryotherapy, red light therapy, and EEG brain training," she adds.
Small Group Training
"Small-group training is also on the rise this year," Stone says. "Plenty of research shows following a program with at least one other person makes you far more likely to succeed in achieving your fitness goals, and small-group training fosters a team environment where everyone belongs." And she should know, considering the trainer uses this method herself by coordinating small-group (about 20 women) camp challenges. "The results these women see are often accelerated compared with women who workout alone or just in one-on-one personal training sessions," she explains.