Try This Travel Skincare Routine For Your Long Weekend Getaway
Summer Fridays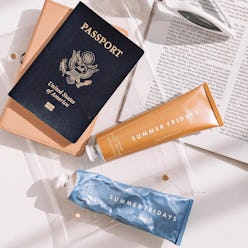 If an upcoming business or pleasure trip has you panicking at the thought of packing your entire bathroom cabinet into the zippered compartment of your suitcase, take a deep breath and read on. Dermatologists say that your travel skincare routine can be easy to pack, easy to apply, and fully capable to handle any skincare emergencies.
First, let go of the extras — you know, the fun-but-not-always-necessary steps between cleansing, applying serum, and moisturizing. "You may need to pare down your skincare routine when you travel, but make sure you don't skip the basics," Dr. Sejal Shah, a dermatologist at SmarterSkin Dermatology, tells The Zoe Report. According to the dermatologist, "the basics" include cleanser, antioxidant serum, moisturizer, and sunscreen. "If you have a skin condition that is being managed with prescription medications, try to bring those along as well," Dr. Shah advises.
If you are traveling someplace sunny (lucky you!), it's perfectly OK to skip your retinol and hydroxy acids, which can make you sensitive to sunburn, Dr. Joshua Zeichner of Zeichner Dermatology says. But just because you're destined for a snowy getaway doesn't mean you can skip on sun protection. "Sunscreen is your first line of defense against UV light exposure," Dr. Zeichner notes, which can happen on even the cloudiest of days. "And antioxidants are like a safety net to help minimize free radical damage that develops despite our best efforts in protecting ourselves from sun." As a refresher, antioxidants include vitamin C, vitamin A, and vitamin E — so if your serum includes one of those, you're golden.
Don't forget about body care. "If you have very sensitive skin, I also recommend bringing your body moisturizer," Dr. Zeichner tells TZR. "Unfortunately, many of the products provided by hotels are highly fragranced and may lead to skin irritation or allergies."
That simplified lineup should keep your skin in check throughout your trip, but the flight there may call for additional hydration. "Airline travel can affect the skin in a number of ways," Dr. Shah says. "The pressurized cabin is a low humidity environment, so it sucks the moisture out of your skin causing it to become dry; and in some people, the skin produces more oil to compensate for this dryness, making it more prone to acne flares." Since there's less blood flow to the skin at higher altitudes, your complexion can become dull in flight as well. Luckily, all three issues can usually be solved with two products: a hydrating mask and thermal water.
"Hyaluronic acid face masks are the best kept secret to keeping your skin in good shape while you travel," Dr. Zeichner reveals. "The molecule acts like a sponge to bind 1000 times its weight in water, so applying it is soon as you get on the plane can help protect your skin against the dry air." He recommends the Neutrogena Hydro Boost Hydrating Face Mask. Sure, sheet masking next to a stranger in tight quarters may feel like a little much… but your skin will thank you afterwards.
"Thermal water mists are also a good idea," Dr. Shah tells us. Spritz your face with Avène Thermal Spring Water pre- and post-flight (and as much as you like in between) to add much-needed moisture. "Don't forget a lip balm to protect your lips as well," Dr. Zeichner adds.
After you deplane, Dr. Zeichner recommends washing your face to remove any excess oil that could become trapped in your pores. Then, layer on your serum and moisturizer to help skin readjust.
But no matter how well you care for your skin up in the air, there's always the chance that the changes in air pressure and humidity can lead to breakouts — and that's exactly why Dr. Shah suggests packing a skincare emergency kit, as well. "Pack an acne spot treatment, an over-the-counter hydrocortisone, and Aquaphor for any unexpected skin issues," she tells us.
"A two percent salicylic acid acne spot treatment like Clean and Clear Advantage Spot Treatment will treat any pimples that pop up after the flight," Dr. Zeichner says. Those with sensitive skin can soothe unexpected reactions or inflammation with hydrocortisone cream to reduce redness and swelling; and Aquaphor helps in a pinch for cuts, scrapes, and extreme dry patches. Bonus: All three products are available at drugstores everywhere if you're caught unprepared.
Actually, you can supplement pretty much any skincare product you've forgotten at home with an affordable alternative, so long as your destination has a place like Target in town. "If you forget your antioxidant serum, L'Oreal Paris Revitalift Derm Intensives Vitamin C costs about $30 at your local drugstore," Dr. Zeichner says. Caught without a cleanser or body wash? "Dove Sensitive Skin Body Wash is gentle enough to use on face and body — it contains gentle cleansing ingredients along with hydrators to help moisturize while you wash," the dermatologist shares. "It costs only five dollars, so you won't feel bad leaving extra behind if you don't finish the bottle." He also recommends Aveeno Daily Moisturizing Lotion, filled with oat extract to calm even the most sensitive skin.
In total, that's just 11 products you need to keep skin clear, hydrated, and blemish-free while traveling. Easy, right? Ahead, shop the travel-friendly essentials derms swear by.
Cleanser
Antioxidant Serum
Moisturizer
SPF
Mask
Mist
Lip Balm
Body Lotion
Skincare Emergency Kit