Searches Are Up For This Engagement Ring Style On Pinterest — & It's Far From Subtle
Victor Barbone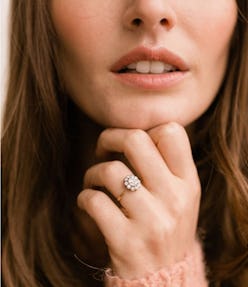 It's been going on since November — your Instagram feed is probably proof — but engagement season continues to stretch on through February. This is good news if you're one half of a couple and looking to take the next step forward in the very near future, because you've still got some time to determine your ideal engagement ring style. And if a classic round solitaire diamond, while lovely, doesn't quite have your heart fluttering, you're in luck. The most popular engagement ring styles on Pinterest are decidedly a departure from the norm, and proof that pretty, unique engagement rings are on the rise.
Whether you're somewhat patiently waiting for your person to pop the question, or looking into taking matters into your own hands — Pinterest tells The Zoe Report that "women proposing to men" searches are up on the site at 336 percent — you're likely looking into engagement rings. And because the busy engagement season means hoards of other happy couples are also taking their relationships to the next level, you're far from alone if you've been scrolling through Pinterest looking at special sparklers for that ring finger.
In fact, searches on the site for several unique styles have recently seen a major bump in activity, and if you're hoping for an engagement ring that's as individual as you or your partner, now is definitely the time to take a closer look. And because Pinterest painstakingly tracks every single trend that's on the rise, the visual platform is the perfect place to start.
Fancy yourself one for an alternative center stone? Other gemstones and non-traditional diamonds are quickly becoming popular picks amongst the engaged set. Gorgeous green emeralds placed in a yellow gold setting are trending up on Pinterest, with a 317 percent increase in searches.
If you'd prefer a more fiery stone that evokes the passion of your love, take a look at ruby engagement rings set in rose gold — they're up 104 percent on the visual search site. Or, stray from tradition by opting for a black diamond instead of the classic white. The dark stone still shines when cut with lots of facets, but gives off an edgy vibe that non-traditional brides will love.
But if you're smitten with the idea of a diamond sparkler, there are still plenty of currently-popular unique diamond styles popping up all over Pinterest. If old-world charm is totally your speed, opt for an Edwardian-style ring. The intricate setting style, which has no shortage of eye-catching antique vibes, is trending up with a 417 percent increase in recent searches. Natural, less-finished diamonds as well as super-minimal styles are also gaining popularity, in part because both can be more affordable engagement ring options.
Because diamonds are truly forever, there are certainly tons of sparkly white diamond styles still ranking high in happy couples' searches. Stunning Asscher-cut diamonds have spiked on Pinterest by an astounding 1,344 percent, likely thanks to the step-cut facets that showcase a diamond's clarity. Double-halo rings, which can help a smaller center stone seem larger, have seen a 991 percent increase, while super-unique east-west settings are up 111 percent.
Clearly, wedding bells are on the brain these days for tons of Pinterest users — and if you count yourself amongst the crowd looking into more unique engagement rings, you'll want to consider the site's currently-trending styles. Keep scrolling for more ring inspiration (and maybe drop a hint or two).
Emerald Center Stone
Black Diamond
Edwardian Setting
Minimalist Setting
Asscher-Cut Diamond
East-West Setting