Affordable Engagement Rings Do Exist – Here's Where To Find Them
Courtesy of Mejuri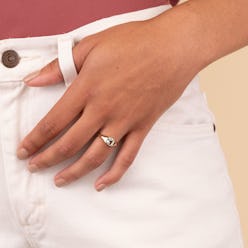 Any couple on a budget that's turned to the internet for affordable engagement rings has probably had a few laughs and more than a few disappointments. Between the costume jewelry that'll turn your finger green in a week, sketchy websites with too-good-to-be-true prices, and vague online stores with no reviews, it can feel like a "cheap engagement ring" is still an oxymoron. However, there are a few tricks to finding affordable engagement rings under $500 that will turn zero options to endless.
Start by thinking outside the box. Browse the jewelry selection of stores you already shop at, but wouldn't think carry engagement rings. Thanks to the uptick in the popularity of gemstones and crystals, your favorite store may already carry your perfect ring, even if it's not marketed as such. Dreaming of a 14K rose gold ring with an ethically-sourced diamond, under $500? Anthropologie has it. For just $448, this Sirciam Diamond Ring has the modern lines and subtle shape popular amongst minimal brides.
Though your budget may be tight, it can be hard to shake the desire for gold and diamonds. But just varying what type of clear, sparkly gemstone sits on your finger can be the difference between a $300 ring and a $3,000 ring. Known for its nostalgic designs, the Loren Stewart's Marquise II Band has all the glitz and drama of a ring triple its price. At $302, the ring is fashioned from a 14k yellow gold band and features five topaz stones.
Other gemstones, like white sapphires, can also satisfy a diamond craving. For just $205, the Viper 14-Karat Gold Sapphire Ring has the vibe of a luxury engagement ring due to the slick style of Copenhagen-based designer Maria Black. The 14k gold band is hammered for added sparkle, but the trillion-cut white sapphire twinkles plenty on its own.
Baguette cut diamonds are a budget bride's best friend. Popularized during the '20s and '30s, a baguette diamond was used to accent larger centerpieces, as the step-cut highlights the sparkle of typically less expensive diamonds. This Zoë Chicco baguette cut diamond ring has a 14k gold band and three diamonds, all for $495.
Though you may get lucky browsing the Tiffany's or Kay Jewelers' sale sections, getting acquainted with lesser-known jewelers like Lauren Wolf Jewelry or LUMO will make finding an affordable engagement ring easy; many indie jewelers use similarly high quality metals and ethically-sourced stones, with a wider variety in pricing. You'll save so much money by going with this $380 white sapphire and black diamond ring from LUMO that you can ask for its 14k gold MRS necklace for the holidays, guilt free.
Feeling a little more confident about finding an affordable engagement ring? Below, 13 gorgeous engagement rings all under $500, with a few more lesser-known jewelers you need to get to know.