Minimalist Brides Will Love Mejuri's New Stunningly Simple Engagement Rings
Courtesy of Mejuri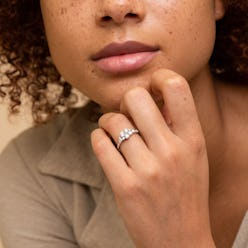 Whether you're nearing your nuptials or just planning ahead, the process of finding an engagement ring that not only fits your aesthetic but the budget can make what is supposed to be a magical time a stressful one. However, one scroll through Mejuri's new engagement rings will help quell your wedding band woes.
On Oct. 15, jewelry brand Mejuri launches its first collection of engagement rings made of simple but pretty pieces. Not wanting soon-to-brides to have to choose between high quality and accessible prices, the engagement ring collection provides the best of both worlds; top materials and craftsmanship, but without the traditional markup, allowing the collection to range from $195 to $2000.
Having cultivated a loyal following, Mejuri tapped into its customer base to help to inspire a collection of non-typical styles that are not only uniquely special, but wearable for everyday.
"Many of our customers are not traditional brides — they're looking for something more personal than a diamond solitaire engagement ring. Something that feels very special to mark the occasion, but also fits their everyday style," Mejuri co-founder Noura Sakkijha tells The Zoe Report in an email. "It was a natural transition for us to design engagement rings for our community; using our same standards of transparency, ethical sourcing, and design that we apply to all of our jewelry."
The non-traditional styles enable the collection to suit all different personalities, while not having a single stone as the focus allows for gorgeous asymmetrical clusters in a variety of styles. There are a variety of silhouettes to choose from, ranging from an 11-diamond showstopper to a delicate grouping of two diamonds that float around either a deep blue sapphire or pretty peach morganite.
"It's in our DNA to do things differently, and make fine jewelry that's wearable every day," says creative director Justine Lancon in an email. "We gathered a ton of feedback about large solitaires being awkward and impersonal to wear; we wanted to create a curated, organic collection that is strong because of the details of the design and not the size of the stone."
From start to finish, Mejuri takes care to create the piece that will become so special to its customers. Each ring takes four weeks to make and is handcrafted by Mejuri's jewelers through every step of its creation until it's finally wrapped by hand. To make the pieces even more personal, the brand has introduced half sizes for this collection (from sizes 4-9) and will provide the option to engrave up to 30 characters inside your engagement ring and wedding band.
To make the search for your ideal ring less anxiety-inducing, Mejuri is completely transparent when it comes to its materials and process, allowing you to know the quality and authenticity of your purchase. The brand works with 14k solid gold and incorporates genuine gemstones and ethically-sourced diamonds, and all of the the stones used are graded by GIA (The Gemological Institute of America) certified gemologists while each ring comes with a certificate of authenticity.
Continue on to see pieces from the collection or head to Mejuri's website for more of its simple new engagement rings.