Designers Say These 5 Engagement Ring Trends Will Be Huge in 2019
Rachel Boston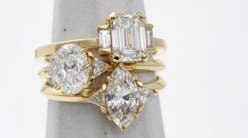 November to February has been coined "engagement season," and if you're expecting to get engaged in the near future, there's no time like the present to begin surveying your bridal jewelry options. Perhaps you'll stick to a classic round brilliant solitaire diamond, or opt to inherit a family heirloom for your ring, but if it's something new and of-the-moment you're after, you'll want to hear from the experts exactly what the biggest engagement trends of 2019 will be. Because brides with their finger on the pulse of what's in may be familiar with the recent surge of such styles as rose gold settings and signet rings, but the truly trend hungry want to know: What's next?
TZR turned to a few of the fashion industry's favorite jewelry designers to weigh in with their predictions for what trends will dominate the engagement scene in the coming year. The main takeaways: a continuation of the movement away from the strictly traditional, and toward rings that have a more modern influence. Some, such as rainbow-colored gemstones, are on the daring side, while others skew more classic, like solitaires revamped with subtle updates. The rest fall somewhere in the middle, like geometric Art Deco styles that marry the old with the new, simple eternity bands instead of a center diamond, and two-stone rings for something unexpected but not over-the-top.
Whether you're actively shopping for an engagement ring or just wishfully browsing, scroll down to see and shop the five trends that are poised to take over in 2019.
Colored Stones
"I think we're going to see more color accents in bridal; rainbow has been such a big trend in fashion jewelry, and I see it making an appearance in the bridal world." says designer Stephanie Gottlieb.
Caitlin Mociun, designer of her namesake brand Mociun, agrees: "The non-traditional bride comes to us for colorful engagement rings using gemstones that aren't diamonds, often in our iconic cluster shape," she says. "We always have colorful, one-of-a-kind cluster rings in our store, and I often design them for couples looking for a custom engagement ring. Lavender is starting to have its moment, and I predict it will become even more popular in 2019." Mociun says to look for stones that naturally occur in shades of purple, like sapphires and spinel.
Modern Solitaires
"I think 2019 is going to be about simple done right," says designer Jade Trau. "I see the simplicity of the right solitaire, focusing on the beauty of the metal that surrounds it, and the diamond itself the star of the show, as being a growing trend.
Designer Lizzie Mandler agrees that the "upgraded solitaire" is the 2019 iteration of the traditional diamond ring. "Most women that come to me want something traditional and timeless, but modern and updated. My signature style is the knife edge solitaire, which can be done with or without pavé, and with any shape or size center stone," she says. "The knife edge gives the solitaire an updated and modern feel, but the overall silhouette is something you could never get tired of. I use knife edge prongs to complete the setting, which creates a very delicate, 'barely there' effect without compromising the safety or integrity of the setting."
Designer Yves Spinelli of Spinelli Kilcollin says that so many couples come in looking for a non-traditional wedding ring ,"to signify their unique relationships, and I believe this will continue in 2019. Traditional solitaire rings will always be timeless, and we've been updating this with our signature linked rings."
Two-Stone Rings
"Our two-stone engagement rings have been receiving a lot of requests, especially our Pear Duét Ring and Highland Ring," says Katherine Kim designer of jewelry brand KATKIM. "These styles are distinct and add an element of unexpected, but they still carry a timeless appeal. Couples have been looking for something more special and unconventional that not a lot of people have. We anticipate to be making a lot more two-stone designs in the coming year."
Geometric & Art Deco Styles
"I've noticed a drive towards Art Deco-style engagement rings, but with a modern twist. We love the Art Deco period for engagement ring style, but actual vintage rings from the era can be impractical for the modern woman and everyday wear. The stone setting is generally really high, so can catch. A risk with vintage rings is older, worn settings mean stones can be prone to falling out. With a lot of our bespoke rings inspired by the Art Deco era, we look to the geometric shapes and layered structures and we refine the design in to something that is more current, but still beautiful and timeless. We love incorporating side diamonds in varying sizes and cuts to create interesting shapes that catch the light differently amongst all the stones." —Rachel Boston
"Baguette diamonds have been very popular the last few years in fashion and fine jewelry, but they have been picking up in popularity for bridal. Baguette diamonds became a popular cut in the 1920s and again in the 1950s, now they feel modern set in minimal or Art Deco-inspired settings. These step cut diamonds are being used as classic side stones to accent a center diamond, or used to create a completely unique design on their own. Because these diamonds are small, you can really play with the shapes they create to make something one-of-a-kind, which is why they are being requested and will continue to be used in 2019." —Ashley Zhang
"Based on what our custom clients are asking for, I think brides in 2019 will look for an interesting but beautiful twist on the classic diamond ring. Geometric diamonds in symmetrical Art Deco-inspired rings will be perfect for this type of modern bride. I expect hexagon cuts to grow in popularity. They're part of the step cut family, which includes hexagon, octagon, shield, kite and lozenge — they're harder-to-find cuts that you don't see as often." —Caitlin Mociun, Mociun
Eternity Bands
"I'm seeing more and more brides opt out of the traditional solitaire, and instead go with a larger and more unusual eternity band that they can use as the base of a major stack on their wedding finger. Solitaires just aren't for everyone, either they don't fit into an active lifestyle, or women want a more subtle ring with just as much bling. Eternity bands can be done in several ways, including shared prong and channel setting, and with almost any shape stone. My favorites are the more unique stones like asscher and trillion." —Lizzie Mandler