Zoë Kravitz's Engagement Ring Curator On The Jewelry Trend You're About To See Everywhere
Carl Timpone/BFA/Shutterstock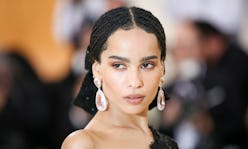 As soon as Zoë Kravitz announced her engagement to Karl Glusman, her stunning ring became immediate inspiration for budding brides and jewelry lovers. Unlike the majority of celebrity jewels, Kravitz and Glusman didn't pluck the piece from a catalogue — instead, they opted for a one-of-a-kind, antique engagement ring from Mia Moross, a New York-based curator. According to Moross, unique engagement rings like Kravitz' are on the rise — and they're a lot easier to find than you'd think.
"Zoë has impeccable taste, and above all she is not afraid to take risks," Moross, who hand-picks an impressive selection of antique and vintage jewels for her site, The One I Love NYC, tells The Zoe Report over email. "So, it's only fitting that her dream ring would be one that is not only completely unique, but is also lifetimes away from the 'traditional' engagement rings we see today."
Moross says Kravitz' ring, which features a gorgeous rose-cut diamond band, dates back to the late 18th century. "This diamond cut is recognizable by its domed face and flat bottom, hosting several facets on its top, resembling the petals of a rose, hence the name." Kravitz has worn the ring since Glusman popped the question in Feb. — though it wasn't noticed until she let the news slip in her Rolling Stone Nov. cover story.
While the likes of Sarah Jessica Parker and Amal Clooney took a more traditional approach with their engagement rings, the celebrity set hasn't exactly shied away from unique cuts and colors. Lady Gaga announced her engagement in Oct. with a glitzy pink ring, and Emily Ratajowski even designed her own, opting for two large diamonds atop a gold band. But antique engagement rings are far more than unique — they're one of a kind, and more often than not, they're steeped in history.
"We like to call [antique rings] wearable art, or tiny pieces of historical adornment," Moross explains. "These beautiful jewels have stood the test of time, passed down from generation to generation, collected, admired, given as a symbol of love and adoration. If antique gems could talk, we can only imagine what amazing stories they would tell."
If antique and vintage engagement rings fall right in line with your aesthetic, there's good news: Moross says the trend is only continuing to grow, especially amongst younger generations like millennials.
"We've definitely seen a spike in antique engagement rings over the past few years," she explains. "That said, the trend has always been alive, but is now tailored to a younger crowd. I believe this is due particularly to the uniqueness of each piece. With an antique, you know that you're truly getting a one-of-a-kind ring."
The thought of hunting down the perfect antique engagement ring may sound intimidating, but Moross recommends beginning with some research. Scan jewelry books, find antique rings online, and stop by antique jewelry stores and museums to narrow down your favorite styles. "Just like any aspect of fashion, jewelry styles and fabrication techniques change from century to century," Moross notes.
"We find that the Art Deco Era tends to be a favorite amongst those looking to procure an antique engagement ring," she adds. "However, Victorian Era & Georgian Era rings are just as beautiful! They require a bit more care, but pack an incredibly unique style."
To help you get a leg up on your search, The Zoe Report hand-picked a selection of gorgeous antique and vintage rings — all of which are still in stock and available to shop online. Keep in mind that you'll have to act fast if you have your heart set on an antique ring — as Moross says, they're all one of a kind.
Shop The Look