The Prettiest New Eyeshadow Palettes To Inspire Your Valentine's Day Makeup Look
Sephora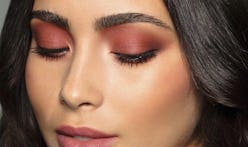 Valentine's Day has a special place in fashion lovers' hearts. Besides often warranting romantic dinner dates during the workweek, the love-themed holiday is the only excuse you need to dress up in the middle of dreary February. Likewise, since a glamorous Valentine's outfit begets an equally glam eyeshadow look, it's the perfect excuse to shop all of the new, January 2019 eyeshadow palettes at Sephora (not that you may have needed one).
Convenience factor aside, having so many new palettes to choose from makes picking just one a task, especially if you haven't even started planning your Valentine's Day outfit. When both retail for the same price, how could anyone possibly choose between a new Marc Jacobs Eye-Conic Frost palette and the glittery Too Faced Pretty Rich Diamond Light Eyeshadow Palette?
It boils down to each palette's overall aesthetic. You probably already have a rough idea of how you want to style yourself for the night out, whether it's a tailored silk dress perfect for Valentine's or a casual date night outfit that's effortlessly cute. So, go with a palette that lends itself to your style — and in lieu of wandering your local Sephora's aisles in search of inspiration, continue scrolling down. Below are three Valentine's Day makeup ideas, with a few recently-released eyeshadow palettes you can use to achieve them.
Romantic and Glamorous
You can't go wrong with a soft glam look for Valentine's. The classic date night makeup works for any occasion, whether you landed reservations at the most sought-after restaurant in town or plan on staying in to watch '90s rom-coms all night. While it may be too hard to resist red lipstick, try pairing the bronze and gold eyeshadow shades from the palettes below with a similarly warm, neutral lip.
Pinks and Reds
Want to lean into Valentine's Day's rosy shades? You have endless options from major makeup brands thanks to the pink eyeshadow trend — which, according to Sephora's new palettes, looks like it'll probably carry over into 2019. Pick up one of the eyeshadow palettes that focus on the romantic colors from the three below, or grab the Smashbox LA Cover Shot Eyeshadow Palette; the $45 palette has glam shimmers, transition shades, and the perfect bright peach (appropriately named #Sunset).
Colorfully Monochromatic
Styling a monochromatic look with the same eyeshadow shade is an easy way to look so polished. But are you the type of person that walks to their well-stocked closet the night of Valentine's Day, grabs the first thing you spot, and leaves the house 10 minutes later? If so, you need a palette ready to complement whatever you wear. Unlike eyeshadow palettes that center around a key color, Sephora's new releases feature a few palettes that tell wider color stories, or were created with versatile makeup artists and collectors in mind.