Sephora's Latest Arrivals Are Full Of New Launches From Tried & True Brands
Sephora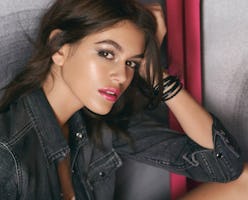 Though it's too early to riddle out what this year's top beauty trends will be, one thing can be discerned by browsing Sephora's January 2019 arrivals: this month, at the very least, is all about the fundamentals. On the surface, the new releases may not be as exciting as 2018's late releases; save for some select shades, you won't see a rainbow of eyeshadow palettes just by scrolling through Sephora's page. But 2019's renewed focus on makeup's base products — foundation, concealer, nude eyeshadows — is good news for beauty fans. Any makeup look starts with the right foundation, after all.
Though when it comes down to it, buying foundation can be a chore. Hunting down your exact color match, and then paying more money for a primer or essence that will keep your skin hydrated under the foundation? Way less exciting than buying a lipstick. However, Sephora's new releases include foundations with cutting-edge skincare ingredients that will thrill beauty fans. The ingredient list of Laura Mercier's Flawless Lumière Radiance-Perfecting Foundation will turn some heads in Sephora: the $48 foundation contains standards like mica and vitamin C, and the not-so-standard silver ear mushroom extract.
But the skin-hydrating mushrooms, also known as snow mushrooms or Tremella fuciformis, have become one of the top natural skincare ingredients to know. Laura Mercier notes that its use of the extract in the foundation is to reduce fine lines and wrinkles — an unnecessary (yet certainly welcome) added bonus for a foundation reviews say is smooth, buildable, and offers great coverage.
Lipstick is also getting the skincare treatment. The Yves Saint Laurent Volupté Plump-in-color Plumping Lip Balm contains hyaluronic acid and coconut oil, two moisturizing standards in the skincare world. The tinted balm is made with peppermint oil, as well, which will sooth and cool lips. Buy the $39 balm in the shade Exposing Coral, a color similar to Pantone's 2019 Color of the Year, Living Coral.
On the flip side, the eyeshadow releases are mostly simple, neutral-leaning palettes in everyday nude shades. It's a return to the simple glam made popular by celebrities like Kim Kardashian and her makeup artist Mario Dedivanovic — use the palettes to build natural looks during the week and for smokey eyes on Saturday night. You have options from tried-and-true brands; pick from NARS' $59 Skin Deep Eyeshadow Palette, Marc Jacobs Beauty's $49 Eye-Conic Frost Multi-Finish Eyeshadow Palette, and Natasha Denona Mini Nude Eyeshadow Palette for $25.
What will be 2019's pink eyeshadow? That's still up in the air. For the time being, continue scrolling for 11 exciting new releases from Sephora's January lineup.