Don't Overthink It — Here's What to Wear to Valentine's Day Dinner
@nycbambi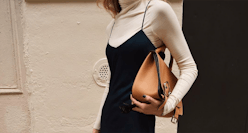 You can approach Valentine's Day one of two ways. First, you can indulge in the sometimes-stressful side of the holiday and splurge on gifts that may or may not be wholly necessary, or you can use it as an excuse to go out to a really, really delicious dinner. If you're opting for the latter (smart choice) then aside from picking out a restaurant you'll also be in need to figure out what to wear to Valentine's Day dinner. Thankfully, the internet is ripe with good ideas for how to dress for a romantic — or purposefully non-romantic — meal and because February 14 is right around the corner, it's an appropriate time to pick yours out.
A swift scroll down and you'll discover nine easy-to-assemble ensembles from some of your favorite women on Instagram. A colorful sweater and skirt pairing you can wear everywhere, the perfect way to layer a slip dress for winter's cold weather, and a slew of other stylish ideas that'll translate not only to Valentine's Day dinner but also all season long. See below for accessible inspiration and if any happen to tickle your fancy shop the product picks to solidify your Valentine's Day dinner look. Bon appétit!
Cute Cardigan + Printed Skirt
Style a printed slip skirt with a cardigan in a pop of color for a low-lift, fashion-forward look you can wear pretty much all of the time.
Slip Dress + Turtleneck + Mules
Combat frigid temperatures by layering a tissue turtleneck beneath your slip dress. A pair of low-heel pointed-toe mules to polish things off.
Statement Suit + Button-Down
Slip into a bold suit for an unexpected dinner date look and team the coordinated ensemble with a button-down shirt worn underneath. The outcome will be equal parts cool and comfortable—as all outfits should be.
Tonal Sweater and Skirt + Tall Boots
Pair a sweater and skirt in the same color family (perhaps red or pink?) and accessorize with a pair of tall leather boots below.
Oversized Blazer + Silk Dress + Strappy Heels
Add balance to your proportions with a boxy blazer worn over a slinky dress and strappy sandals.
Sweater Dress + Over-the-Knee Boots
A pair of OTK boots and a chunky sweater dress is an alluring combination that's simultaneously cozy and cool.
Leather Jacket + Sweater + Sparkly Skirt
Contrast a sequinned skirt with a solid jumper and edgy moto jacket for a laidback-yet-festive ensemble.
Floral Dress + Printed Pumps
Experiment with a little print mixing by way of a fresh floral dress and pumps in a contrasting pattern (try cheetah or zebra!).
White Blouse + Trousers + Lace-Up Boots
If you tend to lean toward a minimalist aesthetic consider a white blouse tucked into cropped trousers. Not into heels? A pair of lace-up boots will do just fine.