10 Places To Visit In 2020 That'll Give You The Most Bang For Your Buck
Source: Black Tomato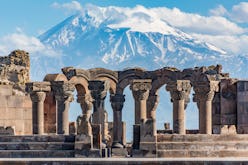 Just as fashion and beauty trends reset in the new year, so do those surrounding travel. So if you're in the throes of planning next year's, it's helpful to do a little homework and see what the best vacation destinations in the world will be in 2020, right? At the very least being educated on these buzzy locales can help you narrow down your choices.
But what makes a vacay spot so great or popular? For many avid travelers, the best trips won't break the bank and getting the most bang for your buck means more cash to explore the corners of the globe. So whether you save on transportation, food, accommodations, or all three, when you scope out deals and seek unconventional locales, you'll be able to keep your New Years resolution of going to a new place — or two.
Ahead, savvy travel experts share their top budget-friendly destinations to visit in 2020. From low flight costs, to cheap street eats, to affordable accommodations, to attractions that are relatively undiscovered (for now), exploring these areas is less expensive than vacationing in the typical tourist traps.
Read on for the inside scoop on the best places both in and outside the US that pros say to visit before prices inflate. Plus, if you're planning on traveling next year, the time to start booking is now.
Prague, Czech Republic
Staffo Dobrev, a budget travel expert for the transportation booking site Wanderu, says if you've got Europe on the brain, consider setting your sights on Prague. "The Czech capital is the most cultured city in Central Europe due to the high number of museums, cathedrals, historic sites, and theaters located there," he begins. "The good news is that airfares from the US to Prague are about to drop by about 31 percent in 2020. At an average of $175 per night, hotel rates may not be the cheapest, but they are certainly more affordable than the vast majority of major European capitals, and the unique scenery and places to visit definitely make it all worth it.
Philadelphia, Pennsylvania
"In 2020, prices are expected to drop by 23 percent for domestic flights to Philly," says Dobrev. He adds that if you think outside the box, using the hub as a stopover to other cities can save you big bucks. "While Philadelphia has plenty of fun things to do and points of interest to check out, its location makes it the perfect starting point for a day trip to other pricier destinations," he explains. One example: You can score a bus ticket from Philadelphia to New York City for between $1-10, then head back for the night, "avoiding the ridiculous accommodation rates that NYC is notorious for."
Georgia
Beyond Georgia the state, travel pros say that Georgia the country is also well worth a visit. "Georgia entered our radar in late 2018, and we consistently find hidden gems about this incredible country that flaunt prices a metro city dweller in the states can only dream of," dishes Sunil Metcalfe, European travel expert for Black Tomato. "Sandwiched between Russia and Turkey, Georgia is an under-the-radar Eastern European destination where travelers can easily find luxury hotels, beautiful vineyards, impressive wine tastings, and fantastic gourmet food, all extremely affordable. The recommendation is backed up by Catford. "Often cited as the first place in the world to produce wine, not much has changed in Georgia's Kakheti region over the millennia, including the prices; get there before Instagram catches on."
Madrid, Spain
Madrid on your bucket list? The coming year may be the best time to go. "[Flying to] the capital of Spain is expected to become cheaper to visit in 2020; 35 percent cheaper, to be exact," Dobrev shares. "And while it's not the cheapest city in Europe to visit, Madrid's average hotel rates are around $154 per night, making it almost two times cheaper than most big cities in Western Europe, including Dublin, Amsterdam, London and Paris." Better yet, dining is equally affordable. "A three-course meal for one person at a mid-range restaurant in Madrid will cost you about $23, which is a lot cheaper than other cities like Amsterdam or Copenhagen, where you will shell out a good $35 or $47, respectively," he says.
Rome, Italy
Vacationing in Rome isn't usually synonymous with being cheap, but making it your starting point can be an affordable way to tour nearby cities. "Even though Rome has a reputation for being expensive, flying there is actually pretty cheap compared to other European destinations," says Dobrev. He suggests taking Alitalia, but warns the carrier doesn't offer any frills, a fair trade-off for budget travelers. "For comparison, while the average British Airways flight from the U.S. to London costs $1,386, the average airfare to Rome by Alitalia will set you back $776, or almost half as much. From Rome, you can travel to all Italian destinations on your bucket list for less than $130."
Armenia
Seeking authenticity? Jessica Wells, product development manager for Black Tomato, gives her accolades to this Eurasian country. "For an immersive cultural journey mixed with an element of raw adventure, Armenia is an emerging destination that travelers with a budget should visit in 2020 before the crowds catch on," advises Wells. "Armenia is a country rich in culture, religion, and architectural marvels. Right now, [it's] an unfettered destination where travelers can enjoy authentic Armenian food and jaw-dropping landscapes featuring the Caucasus mountains."
Chicago, Illinois
Dobrev points out that planning (and booking) ahead also pays. "While the biggest city in Illinois does not necessarily bring associations with being budget-friendly, if you book your 2020 trips now, you can score plane tickets that are 35 percent cheaper than the price of the average Chicago-bound flight in 2019," he notes. "And if you're looking to extend your journey but stay on budget, there's a whooping 37 destinations where you can travel from Chicago by bus or train for under $20. If you are lucky, you might even score $1 tickets to happening spots like St. Louis or Milwaukee."
Vietnam
Many Southeast Asian countries are notorious for serving up cheap and scrumptious street eats. Sarah Lempa, a travel expert at Seeker, an online community of expert travelers, says that Vietnam is one of them. "'Bang-for-your-buck' value is an understatement when it comes to Vietnam, a place where meals that deserve Michelin stars can be enjoyed for only one or two dollars," she says. "An oldie but a goodie for budget travelers (and quickly rising in popularity), Vietnam's striking landscapes, warm locals, and countless 'best food ever' dishes push it to the top of our 'best place to get your money's worth' list for 2020."
Medellin, Colombia
Michael Catford, who's also a travel expert for Seeker, says that a drastic transformation makes this city an up-and-coming (and affordable) destination for the new year. "This modern, hip, and effortlessly cool metropolis was once the murder capital of the world," Catford explains. "Today, it's hard to find a more alluring, safe, and budget-friendly destination. Until the city gets an official rebrand and tourists come flooding in (it will happen), Medellin will remain a haven for backpackers and budget travelers who enjoy first-world quality at close to third-world prices. "
Slovenia
"An incredible alternative for travelers looking to go to Italy (but that isn't quite in their budget), the alpine landscapes, historic castles, rolling green hills, delectable wine, and flourishing culinary scene of Slovenia is a perfect choice," says Amy Hellman, a European travel expert at Black Tomato. But unlike Italy or France, it's off the radar (for now), so be sure to pack your bags for 2020. "Generally much less expensive than other Central or Western European countries, travelers to Slovenia will have a very similar experience for a quarter of the cost and a quarter of the crowds." Headed to Europe for the food? Hellman says you'll find plenty of tasty excursions. "Travelers in Slovenia can indulge in the allure of truffle hunting, winery tours, and charming towns," she says.