The Vacations That Everyone Will Be Taking In 2019
Oli Scarff/Getty Images News/Getty Images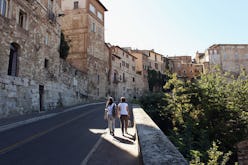 In this current day and age, it seems the world is more accessible than ever before, and thanks to social media, vibrant photos of faraway lands have piqued the wanderlust of scrollers everywhere. With travel bloggers exploring all corners of the earth, stunning yet cliché destinations like London, Paris, and Rome have taken a backseat. The new bucket-list toppers are trips that are less conventional, more cultured, and oftentimes, more affordable, too. This is incredibly evident in the 2019 vacation trends that are about to hit an Insta feed near you.
The rules of vacationing are changing, and next year, the evolution will have reached its peak. According to experts from Airbnb and TravelPirates, tourists will be taking the roads less travelled. Instead of booking traditional vacations, they'll be seeking more memorable experiences and unique accommodations, while booking their trips in the off-season and taking advantage of last-minute deals.
If your New Year's resolutions include seeing more of the world, it's time to start getting inspired. Between dwelling in treehouses, checking into bucket-list hotels, and visiting foodie paradises, there are tons of incredible experiences to be had. Ahead, check out the burgeoning vacation trends of 2019, according to pros from some of the internet's top travel sites.
Unique Accommodations
"With 58% of millennials considering how holiday accommodations look on their social media when booking, it's no surprise unique Airbnb listings continue to be a major draw for travelers," explains Ali Killam, consumer trends spokesperson at Airbnb. The booking site lists plenty of unconventional dwellings, including RVs, castles, luxury tents, islands, and treehouses. For example, "some of the most unique homes on Airbnb include the Mushroom Dome Cabin in Aptos, California, the AirShip 002 Scottish Highlands, United Kingdom, and the Amboise Troglodyte in Centre, France," she says.
Bucket-List Hotels
Dom Scarlett, travel expert at TravelPirates, adds that "bucket list hotel stays" will be a top trend in the new year. "Hotels with outdoor showers in Manhattan, beer on tap in the room, and guest art classes led by a local artist are all experiences travelers are after," he says. "Hotels aren't just your starting point for travel anymore, they are your destination. People are putting accommodation at the top of their bucket lists."
Experiences Over Objects
Ever fantasized about snorkeling in Bora Bora or riding a bicycle through Amsterdam? Planning a memorable excursion is easier than ever before. Killam says the philosophy of putting "more value in experiences over physical objects" is reflected in today's travel trends. "Popular [Airbnb Experiences] categories include food and drinks, arts, sports, history, and nature," she explains. "Some of the most popular Experiences in 2018 touched on passion points like meditation, horseback riding, sunsets, pizza, and jazz, and we see that continuing to be a trend in 2019."
Food Tourism
To that, Scarlett points out that travelers will continue seeking culture through culinary adventures. "Food tourism was on the rise in 2018, but 2019 will take it to a new level, as travelers look to experience the food fusions that reflect the modern culture of the destination," he reveals. "From the Singaporean hawker centers that dole out dishes that stem from the diverse ethnic group of the country to the famous bulgogi taco of Southern California to Montreal's restaurant representation of 50-plus nationalities, travelers want to taste something different."
Spontaneous Travel
Scarlett explains that in 2019, globetrotters will be more spontaneous, packing their bags for spur-of-the-moment and weekend trips. "The same-old, same-old is not in fashion anymore," he says. "Travelers want websites that cull the knowledge of experienced travelers and let them know where they should go and how." He adds that last-minute bookings are more popular than ever, with adventurers embracing a "point to a place on a map and go" attitude.
Off-Peak Season Will Be "On"
In the new year, the off-season will soon become "on," especially for budget-conscious tourists. "The boom of cheap international flights from the U.S. has led to an increase in travel," Scarlett says. "The catch used to be that many of these $99 one-way flights sent you abroad in the 'off-peak' season ... where the weather's cool, the bookings available, and crowds minimal. Sounds not so 'off,' right?"
Tech Detox
Call it irony. While social media is influencing and inspiring travelers to head off the beaten path, another top trend will be to seek solace from all that technology. "In an increasingly connected world, more and more travelers are wanting to ditch their devices and get off-the-grid for a tech detox," says Killam. "With remote listings like a skypod in Calca, Peru or a Yurt in Khushuut, Mongolia, the Airbnb community offers something for everyone who wants to go far, far away."