Skip Tulum And Try This Mexican City If You're Over The Touristy Scene
Elena Rudakova/Shutterstock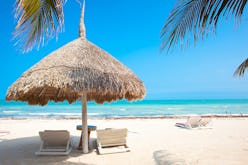 When it comes to taking a vacation, most travelers find themselves in one of two categories: those who who want to be where all the action is, and those who prefer something a bit more off the beaten path. That said, it is possible to have a bit of both worlds — a trip that has all the best parts of some of the most popular cities to visit but without the excess tourism. So if you're trying to avoid the crowds, but still have the vacation fantasy you've been Pinterest-ing, there are a few alternative travel destinations you'll probably want to take note of.
Regardless of whether you're craving a beach vacation, a totally foodie-friendly spot, or want to indulge in some epic sightseeing (among some of the most desirable features in a getaway) it is totally possible to get what you want without having to flock to the same spots everyone else is. And the great news is that some of the lesser known cities in places like Asia, Italy, and Mexico might also save you some cash as well, being that they're a little less in demand than the trendy ones.
So, if you're ready to plan your next trip, look no further than the ahead list of alternative destinations to some of the hottest spots — for those who prefer something slightly more low key.
Sayulita, Mexico Instead Of Puerto Vallarta
Chelsea Martin, founder of luxury travel agency Passport To Friday, recommends the beach-y and bohemian town in Riviera Nayarit if you're looking for the the feel of Puerto Vallarta without all the crowds. And whether you prefer more rustic accommodations or something a bit more glam, she explains that the area has great options for both to offer. "For a jungle-inspired stay try Imanta Resort, for luxury check out Four Seasons Punta Mita, and the newcomer One&Only Mandarina will be a game changer for the region in April 2020," she shares.
Paros, Greece Instead Of Mykonos
Skip the party scene and enjoy this Greek city that's a bit more chill, but still has the quintessential Mediterranean feel. "The less wild neighbor to Mykonos, Paros offers similar whitewashed seaside villages and beaches without the party reputation," says Martin, who's quick to point out that it's certainly not sleepy. "Don't worry, Paros still has a nightlife scene and great restaurants."
Ischia, Italy Instead Of Capri
"While often overlooked by its glitzy neighbor Capri, Ischia is another Italian island nearby with frequent ferries from the mainland," explains Martin. "While Ischia still maintains its untouched appeal, it also provides tourists with a handful of luxury resorts, its famous thermal springs, and charming towns."
Isla Holbox, Mexico Instead Of Tulum
"While Tulum has become a hotspot for influencers and fine dining, if you are looking for a more barefoot experience it may be worth checking out Isla Holbox," Martin says. "This car-free island is just a few hours from Cancun International Airport yet offers a completely different feel, with uncrowded beaches and well-designed boutique hotels."
Puglia Instead Of Tuscany
Though seven hours away — and located on the southern coast — Puglia has recently enjoyed a lot of comparisons to Tuscany, given its reputation as a foodie haven, the old world architecture, and rustic landscape. But besides the fact that it's significantly less tourist-y than its northern neighbor, it also boasts stunning beaches as an added bonus.
Porto Instead Of Lisbon
While Portugal's capital city has a ton to offer in the way of historical sites, beautiful beaches, an incredible gastronomy scene, and eye-catching architecture, the somewhat quieter city of Porto about three hours away shares a lot of the same traits, plus you'll skip some of the crowds and enjoy a bit more character here.
Sardinia, Italy Instead Of Portofino
"The colorful seaside village of Bosa [in Sardinia] provides the same picturesque scenery of pastel houses hanging off cliffs, and as much Italian food as your heart desires," shares travel blogger Mona Molayem. "The medieval castle that is perched high above the town is an additional treat, as the nearby pristine beaches are often crowd-less and waiting to be your own private oasis."
Gili Islands, Indonesia Instead Of Bali
Molayem argues that not only is this trio of islands less overtaken by tourism, but each one has their own unique vibe to offer a traveler. "This three-island archipelago are like mini Balis with beach bars, luxe spas, and wellness retreats," she explains. "Each island serves as different characteristic slice of Bali while all providing the same breath-taking beauty: Gili Trawagan is a party island, Gili Meno provides a more relaxing and remote experience, and Gili Air is filled with beach bungalows, shops, bars, and restaurants."