6 Off-The-Beaten-Path Destinations To Visit In The Mediterranean (That Aren't Italy)
Shutterstock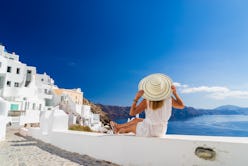 If your Mediterranean dreams are made of turquoise waters, crumbling ruins, and fresh local fare paired with glasses of vino, popular destinations like Rome, Athens, or Barcelona may come to mind. And while these stunning locales certainly live up to the hype, the fact is, their reputations have made them travel hubs with sky-high prices. But if you think outside the tourist trap, you can discover some cheap Mediterranean vacations that offer all the scenery, history, and charm of their cliché counterparts — you just have to know where to look.
First, a few tips: Traveling in the off-season is always the best way to get the most bang for your buck, and flying into a major airport then booking an inexpensive ticket to your destination can also save you cash. Your international airfare may not be cheap (although, you can find budget tickets to Europe if you're a low-maintenance flyer with sleuthing skills), but once you arrive on location, affordable accommodations, food, public transportation, and attractions should make for a cost-effective trip, overall.
Ahead, travel experts share their first-hand recommendations for the best Mediterranean vacay spots that aren't quite on the map (yet). Whether you're after scenic water views, historical artifacts, vibrant culture, or traditional cuisine, these destinations have it all ... minus the the touristy price tag.
Croatia
Split
"Split has more of an urban feel to it with beaches right in the heart of the city. It's the second largest city in Croatia, so it feels like a more cosmopolitan city, like Rome," says Amina Dearmon, owner at Perspectives Travel, a luxury travel consultancy. "I recommend wine-tasting in Split, and Ilocki Podrumi has a tasting room right in the center of Old Town. From there, you can head to Konoba Nevera for traditional cuisine and a bottle of locally-produced Posip from Krajancic Winery.
"You'll pay a bit more to reach Croatia, but even this can be mitigated by buying a roundtrip ticket to a main city hub in Europe and then flying European airlines direct to Croatia. However, once you get there, you'll spend less on accommodations, especially if you're open to an Airbnb or poshtel [an upscale hostel], which both have lots of inventory in Split."
Island of Vis
"In Croatia, there are still islands with a quiet pace of life," notes Alexander Howard lead editor of homepage and interests at Lonely Planet. "How to find them? First, aim for an island that doesn't receive charter flights from elsewhere in Europe — this keeps the crowds at bay. Then head away from the main ferry terminal; Vis is a perfect example.
"The farthest inhabited island from mainland Croatia, Vis was a military preserve until 1989, which has helped the island to retain its Old World charm. Vis' small marina does get a bit of yacht traffic at the height of summer, but it's relatively peaceful here, especially in the Old Town, reached by a scenic seaside promenade from the main center. For more seclusion, head across the island to Komiza, one of the prettiest towns in the Adriatic."
Malta
Valletta
"The capital of Malta, Valletta is one of Europe's gems and the whole city is a UNESCO Heritage Site," says Katie Stepek, head UK/EU flight searcher at Scott's Cheap Flights. "Wandering around the city leaves you feeling like you're wandering around an open air museum with beautiful architecture, churches and historic buildings dotted throughout. Bonus: Valletta (as well as other destinations in Malta) was one of the cities used for filming Game of Thrones, Gladiator, and the Assassin's Creed movie.
"Airbnb is where it's at for budget travelers to Malta, with some of the top listings across the country costing between $25 and $50 per night. Malta is so small that it's possible to drive from Valletta to anywhere on the main island in under an hour, but there is also great public transport. A single bus ticket costs [between $1.80 and $2.50] depending on the time of year, and you can also buy 12 tickets for [around $18] or a seven-day unlimited card for $25. Over 30 airlines fly into Malta including Ryanair, Wizz, Easyjet and Vueling, who provide super low-cost flights between the rest of Europe and Malta."
Albania
Sarandë
"Compared to the rest of the Mediterranean, the Albanian Riviera is relatively undiscovered," says Stepek. "There are breathtaking panoramic views, beaches similar to those in neighboring Montenegro and Croatia, and plenty of historical ruins and sites. Even at peak season, it is possible to find some of the beaches completely empty and the nearby village of Ksamil has arguably some of the prettiest beaches along the Mediterranean. The bus to Ksamil costs less than $1, and eating out is significantly cheaper in Albania than practically anywhere else along the Mediterranean.
"When you're finished relaxing and are ready for adventure, there are multiple UNESCO World Heritage Sites nearby; the ancient city of Butrint [which was occupied by multiple cultures throughout history] is a 10-minute drive away and contains an amphitheater, monastery and a fort, and many pretty mountain or seaside towns. Gjirokaster, an Ottoman-era town, has a fantastic old town, a 12th century ruined castle and virtually no tourists."
Greece
Samos
"Samos truly has it all — history, museums, beach lounging, or outdoor adventures like hiking, boating, or scuba diving," says Morgan Sheets, a Certified Wellness Coach, media relations representative for Wellness Professionals, and wellness travel enthusiast. "While it has been developed and modernized and features many different options for tourists, it hasn't lost its original essence. It's now easily accessible via a direct flight from many European airports.
"[Two] of my favorite destinations to visit are Potami Waterfalls and the Eupalinos Tunnel. The walk to Potami Waterfalls is serene, majestic, and very peaceful. It starts by taking you past a 15th-century chapel, which you must walk inside to see ... be sure to look up! The Eupalinos Tunnel, built in the 6th century, is considered one of the most important historical engineering achievements of the world."
Turkey
Ephesus
"I highly recommend a day trip to see Ephesus if you stay on Samos," Sheets continues. "You can book a whole package through Rhenia Tours. I've been to the Acropolis and the Parthenon in Athens and they are magnificent, but Ephesus was a much more impactful experience for me; it's like the best kept secret of amazing historical cities to visit.
"Ephesus is the most complete classical metropolis in Europe and only 82 percent of it has been unearthed to date. It's home to the Temple of Artemis, one of the Seven Wonders of the Ancient World. Because it's an intact ancient city, you can walk through it and get a really good feel for what life was like back then. Do take your passport though, because you'll need it to exit Greece and enter Turkey."