These Destinations Have The Best Street Food Scenes, According To World Travelers
Shutterstock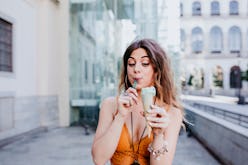 To the delight of foodies everywhere, traveling for your tastebuds has become the norm. The widespread "experiences over things" mindset has made its way to the plate, with cuisine-centered vacations allowing tourists to taste local culture and satiate their curiosity. Thanks to this travel trend, the best street food destinations around the world have emerged; and though many market-style hubs have roots that date back centuries, the search for new flavors has turned them into hot spots for hungry sightseers.
That said, there are definitely stand-alone restaurants — both world-class eateries and hidden gems — that are worth a trip in their own rite. But if you're looking for an authentic taste of daily life, there's no better chef than the humble food vendor. A thriving street food scene can provide an entire vacation's worth of unique eats, and better still, it may be the most affordable way to dine while you explore your new surroundings.
Ahead, seasoned travelers dish on the best destinations to find marketplaces, food stalls, and vendors to sample the most memorable nosh. Whether you're willing to cross state lines or fly halfway around the globe, these recommendations will have you wondering: How far would you go for your next great meal?
Jerusalem, Israel
Shana Sexton, product executive of Black Tomato, a luxury travel tour operator, suggests heading to Jerusalem, Israel for a taste of Middle Eastern culture. In particular, the Mahane Yehuda Market (aka, the shuk) is a hub for delicacies of all kinds, including shwarma, schnitzel, spices, nuts, dried fruit, fish, wine, and more. Be sure to stop by after sunset, too; at night, it becomes a bustling bar scene where locals and tourists gather.
"The energy of the shuk on a Friday afternoon is intoxicating; mothers are scurrying trying to prepare for the Sabbath while young children learn to navigate the close-quartered crowds," describes Sexton. "Halva, a fudge-like, sesame-based dessert, is a must-try at the shuk; find a store that has a wide variety of flavors and curate your own variety box for about 80 Shekel (around $20) to snack on as you explore. Small sacks of Za'Atar [a mixture of spices used as a condiment] are a lovely gift to help bring the Israeli flavors back with you to put on homemade chicken or bread."
Beijing, China
Beijing has lots of eatery-lined strips known as snack streets, and Esther Klijn, a luxury leisure agent who plans all the honeymoon and high-end vacation travel for CIRE Travel, says you can't leave China without strolling amongst them. "Food aside, one of the coolest things about street food in Beijing is that you buy a card, load it with cash, and pay with a swipe at each stall," she says.
One of her favorites nooks is a stretch that's tucked away, but definitely worth seeking out. "Once you've got [your payment method] sorted, go to Jiumen Snack Street. It's hidden in the hutongs around Houhai Lake. Here, you can find Sichuan-style dishes, scorpions and seahorses on a stick, and endless noodles. And if seahorses on a stick aren't your thing, the little candy apples are delicious!"
Mexico City & Oaxaca, Mexico
No, Mexico isn't just for spring breakers. Greg Früchtenicht, Black Tomato's global partnerships manage, says that Mexico City and Oaxaca, Mexico are prime destinations for those following their palettes. "The food in Mexico City and Oaxaca is completely reflective of the spirit and culture of Mexico," he says. "The vibrant buildings show their character in the colorful produce used in tacos and empanadas. The history and tradition is evident in the slowly prepared moles [a traditional, spice-filled chocolate sauce], made differently and distinctly by every family; you can taste the earthiness and the richness of Oaxaca in every bite."
In addition to street eats, he adds that the cities are home to many critically acclaimed restaurants. And, he says, you can't leave without trying your share of locally made mezcal.
Queens, New York
If time and money don't permit, you don't have to leave the US to sample a slew of cuisines from around the world. In New York City, "you can find anything and everything under the sun, from the classics of the hot dog and coffee carts, to amazing food trucks with cuisines from all over the world," says Jason Villacres, a New York native who specializes in leisure and corporate travel for CIRE. "Hop on the subway and head to Queens — to Jackson Heights — and just walk along Roosevelt Avenue. You'll find all sorts of Spanish street vendors: Chili-covered mangos, Mexican corn on the cob, taco carts, Mexican sandwich stands, churro carts, Columbian cheese-filled arepas ... the list goes on."
If you're nearby on a Saturday, "you can head to the Queens Night Market in Flushing Meadows Park," he continues. "There are over 55 vendors from all over Asia, Latin America, Europe, and the South Pacific, with choices under $6 — you can't beat that."
Tokyo, Japan
Klijn says that izakaya culture, which is characterized by grabbing small bites at casual restaurants and pubs, can be seen throughout Japan. Unsurprisingly, you're bound to find some tasty morsels in Tokyo, its capital.
"Japan is no novice to the food scene, but not taking the opportunity to plop down at a small izakaya after a day of exploring would be a disservice," she advises. "An izakaya is somewhere between street food and an intimate bar; it's usually just you, the two stools next to you, the barman, and maybe a cook if the barman isn't serving duel roles. The food is inexpensive or sometimes included with the cost of your drink (similar to how tapas work in certain parts of Spain). But know this: You will rarely see a Japanese person walking down the street and eating. Meals, and snacks, are usually eaten seated (except for maybe ice cream)."
Taipei, Taiwan
"The night markets in Taipei are incredible," begins Amy Brueckner, CIRE's chief of staff. "There are several, but my favorite is the bustling Shinlin Night Market. [There are] so many amazing foods to try, but the two highlights were this amazing fried chicken, Hot Star. The chicken is boneless and they pound it flat (like a schnitzel), bread it, fry it, and put some delicious sauce on it. It is on my top ten list of the best things I ever ate. I still dream about that chicken."
According to this world traveler, there's another unique experience tourists should try — if they're not squeamish, of course. "[There's a] stall where they give you a tiny fishing 'rod' (it's actually a wooden skewer with a string tied to the end and a tiny hook). You get so many chances to catch a shrimp. If you do, they take the same tiny skewer, stick the still wriggling shrimp on it, and immediately barbecue it on a nearby charcoal grill. In less than three minutes, they hand it back to you as your prize!"
Washington, DC
"When you think of Washington, DC, you don't usually think of epicurean delights," admits Wendy Livingston Guth, CEO and Virtuoso travel advisor, and founder of Rebel on the Go Travel. "The culinary scene has blossomed through neighborhoods across the city."
She cites a stretch of eateries that are more restaurant than street stall, but noteworthy nonetheless. "H Street Corridor (in Northeast) is a wonderful mix of ethnic cuisines, a wonderful spot for foodies; "Granville Moore's, for Belgian beer and mussels; Le Grenier, a French café with a terrific wine tasting the first Tuesday of every month; Cusbah features Indian-Pakistani food — Murg Makhni and nightly happy hour specials are favorites; and be sure to leave a little room for a stop at Dangerously Delicious Pies for a slice of sweet or savory pie."
If strolling and eating is more your thing, don't worry; DC has a slew of food trucks that you can scope out.
Adelaide, Australia
Alys Colayera, travel expert, Black Tomato, cites the 150-year-old Central Market in Adelaide, Australia as a hot spot for foodies of all kinds (note: The local seafood is said to be out of this world). "Getting lost in the maze of aisles in Central Market is a full sensory experience and a delicious one at that," she says.
She divulges two of her personal favorites. "The owners of The Smelly Cheese Shop will walk you through their expertly curated selection of locally-made Aussie cheeses, including the outrageous Al Malto D'Orzo E Whisky — it's impossible to leave without at least a few portions in your basket. Round out your visit with a tasting of Snow Dragon Cabernet Sauvignon from the charming and tiny Kangaroo Island stall."