Traveling For The Holidays? Experts Say This Is The Best Time To Book
David Prado Perucha/Shutterstock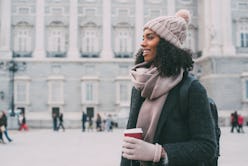 For many, late fall and winter is the busiest time of the year — and that has a lot to do with planning for the holidays. Whether you're hosting friends and family yourself or heading out of town to celebrate, it can be overwhelming. But if you're in the latter category, there are a few things you can do to make life a little bit easier. By knowing the best time to book holiday travel, you can at very least save yourself a headache — and a little cash — this season.
No matter what time of year you're traveling, some tried-and-true expert tips can help make it not only a painless, but actually pleasurable process, from what to wear/not wear on the plane to the most picturesque places for authentic winter vibes (unless you prefer alternative destinations like Barbie's Dream House). But if saving money is a top priority in planning for this year's festivities, they've also got you covered there. And their strategies for getting the flights and hotels you need at the prices you want might just surprise you.
As co-founder of Ten Twenty Travel concierge travel service, Jacqueline Mattes knows all the tricks of the trade, and that includes those that help you make your holiday trip more affordable. Her first suggestion depends on how much lead time you have. For example, you may go to the same place (like your hometown or favorite resort) every year. If that's the case, Mattes believes that you should actually be looking for your ticket a full year in advance. "We have a lot of clients who book for Christmas 2020 the week after they get back from Christmas 2019," she says. "This helps ensure they get their top choice resort before availability becomes an issue!"
If booking that early isn't possible, Mattes advises that you at least start looking seven weeks ahead of your travel date — which probably means right now. "The last minute crowd books within six weeks of the holidays, which both lowers availability and increases rates," she explains. "But, if you need to book last minute, it is always best to book direct so you can be sure you're not booking an 'oversold' hotel or flight." And luxury travel blogger Mona Molayem agrees, noting that you can get the cheapest fares two to three months prior to your departure date.
And all hope isn't lost if, in fact, it does get down to the wire. Cyber Monday, which falls on December 2 this year, might offer a few great last-minute deals. "Keep an eye on long-haul travel companies like Emirates, Cathay Pacific, and Singapore Airlines which offer extremely discounted fares for a limited time by booking direct," offers Mattes. "We've seen round-trip business class airfare from DC to Singapore for as little as $1800 per person."
Being flexible with your travel dates is also always a benefit, explains Molayem. "Sometimes leaving a day or two earlier or later, or flying into a different nearby airport will make the difference in hundreds of dollars," she says. And if you have the luxury of planning a trip outside school's off-season, that's a total bonus. "If you can travel while school is still in session you will often find better fares and availability," says Mattes. "Once school is let out for the holiday break, families make up the majority of travelers."
According to Molayem, knowing which seasons are on and off for your given destination can be a plus, too, as it could help you score savings. adds that while the off-season differs depending on your destination, "For example, there were seat sales to Fiji in January, or Singapore in November," she says. The bottom line is, a little bit of homework here will go a long way.