This Luxe Resort Is The Perfect Valentine's Day Getaway — And It's Right In Your Backyard
Alena Ozerova/Shutterstock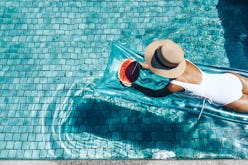 When booking a quick and easy getaway, all-inclusive resorts (particularly those in the US) certainly have their appeal. Set costs make it easier to budget for a trip, you can get a lot of bang for your buck, and having unlimited access to excursions, services, food, and drinks makes planning easy.
While these types of vacations are usually associated with exotic hot spots, it turns out there are plenty of all-inclusive places right in your backyard. "You can get the same kind of [resort] experience you'd expect in Mexico or the Caribbean without leaving the country," notes Calvin Iverson with TravelPirates. "Cost is also a big reason to choose a domestic all-inclusive. Depending on the destination and the time of year, you'll be able to find cheaper flights to destinations within the US compared to international destinations."
With Valentine's Day just around the corner, consider scrapping the expensive presents to take the one(s) you love on a memorable trip, instead. Whether your Valentine is your significant other, your best friend, your family, or yourself (hey, you deserve it!), there's an all-inclusive resort for your getaway style.
From seaside escapes, to nature retreats, to a historic hotel that features all things chocolate, plan on spending Valentine's day (or weekend, or week) in a way that you'll never forget. Ahead, the experts at Travel Pirates and Lonely Planet give their top picks for all-inclusive retreats that are perfect for celebrating Valentine's Day -- no passport required. Bonus: they'll even tip you off to a deal or two.
Club Med Sandpiper Bay || Port Saint Lucie, Florida
Turns out, you don't have to head to the Caribbean for a taste of the tropics. If you want to stay a little closer to home, Dom Scarlett, travel expert at TravelPirates, suggests heading to Club Med Sandpiper Bay in Port Saint Lucie. The resort offers the all-inclusive experience you want in a warm-weather vacation without leaving the country. For as little as $122 a night (per person), enjoy unlimited access to gourmet food, land and water sports, entertainment, and of course, alcoholic beverages (mini umbrellas optional). Whether you're sharing the love with your loyal friends, treating your S.O., or planning a family affair (yep, this resort is kid-friendly), this seaside retreat won't break the bank.
Travaasa Hana || Maui, Hawaii
For a true escape (that's still in the US), leave the contiguous states and set your watch to island time. No matter your vacation style, the Travaasa Hana Resort has plenty to choose from, with their experiences categorized by five pillars: Adventure, Culinary, Culture, Fitness, and Wellness. The à la carte package includes unlimited access to the resort's activity schedule, with food and other services charged separately. But to get the most luxe for your buck, opt for the inclusive experience, which comes with three chef-prepared meals a day, plus a $175 credit (for private classes or spa services) per person, per night. Plus, Scarlett mentions that this place gives off "huge honeymoon vibes."
Red Mountain Resort || Ivins, Utah
If exploration and adventure is more your speed, head to the mountains for an outdoorsy retreat. All-inclusive Red Mountain Resort packages include healthy meals, guided hikes, classes, use of fitness facilities, and more, plus an on-site spa and salon for pampering. The Girlfriend's Getaway package, which includes fitness classes, cooking demonstrations, and spa credits, is perfect if your crew needs a weekend away from the romance.
If you'd rather book a room only then pick and choose your activities as add-ons, you can score accommodations for as low as $156 a night. Scarlett adds another money-saving tip: "While the closest airport is St. George Regional Airport, you'll save money by flying to Las Vegas McCarran and taking two-hour scenic drive to the resort."
The Hotel Hershey || Hershey, Pennsylvania
This historic landmark isn't exactly all-inclusive, but for a romantic night's stay filled with sweet indulgences, you can book a mini escape for two. "Nothing is more synonymous with Valentine's Day than chocolate," points out Trisha Ping, Lonely Planet's destination editor to the Eastern USA. "The Hotel Hershey, the self-proclaimed sweetest place on Earth, offers up some incredible experiences, including chocolate tours, chocolate-wine pairings, and a cocoa beanery café serving up all manner of chocolate treats."
If you're in the mood for a decadent spa experience, she says to look no further. "Interested in trying the cocoa facial? Well, the cacao fruit is full of antioxidants that benefit the skin. A whipped cocoa bath? Foaming chocolate milk helps soften the skin." Side note: Hershey Park is in its off-season, so you may enjoy less crowds, and possibly lower room rates.
Tanque Verde Ranch || Tucson, Arizona
City living have you frazzled? Slow down and find solace in the desert at the family friendly Tanque Verde Ranch. Featuring multiple package deals, you'll have access to horseback riding (and lessons for newbies), fishing, guided hikes, yoga, and more. Opt for the basic "3 Squares And A Bed" deal or simply book a room and choose your meals and activities à la cart.
But if you want to take advantage of everything outdoorsy, the "All Inclusive Getaway" is definitely the route to go. This package includes supervised children's programs for young cowboys and cowgirls (ages 4-11), so you can enjoy some "adult time," even if you bring the kiddos along. When you're done exploring, head to the on-site spa for some well-deserved relaxation.